Student Spotlight: Josh Konheim
Sophomore Josh Konheim is always in motion. He has built his hobbies, work habits, and lifestyle around his tendency to be physically active. This is reflected in his presence at DP, where he participates in weights class and plays on the basketball team.
"I like playing basketball because it's kind of like a safe space," Josh said. "Everything else kind of fades away."
Josh said his sport serves as a method of keeping him busy. Enrolling in weights class fulfilled a similar purpose.
"When I'm working out, it's just enjoyable," he said. "I'm doing something good for my body while I'm exercising."
An alternate way for him to "zone out" and escape is by listening to music. Music is a constant factor in his life, and he explores many genres.
"Mostly, my favorite artists are from 90s and 2000s hip hop. So, like, Jay-Z, A Tribe Called Quest, NAS," Josh said.
He listens to music during most of his day. It serves as background noise for other activities.
"When I'm about to go to bed, doing chores around my house, when I'm working out, I listen to music. While going places, I listen to music everywhere. It's just really relaxing," he said.
DP has very strict rules prohibiting phone and headphone usage in class. Josh isn't strongly affected by these rules, regardless of his music interest.
"As I was walking to fourth period…I was just listening to music in my head. I didn't really have it on my phone…It worked pretty well," he said.
Josh said his favorite class in high school so far is Video Production, where he worked on DPNews. He appreciated the efforts of his teacher, Mr. Caines, and thinks he exhibits the traits that all teachers should strive for.
"I think the best way for kids to learn and students to learn is to be treated like a person rather than a student, because then you feel a better connection and you want to learn more from that teacher," Josh said.
Josh has high academic ambitions for his junior year. He plans on being an IB Merit Scholar, which means he will have three IB classes in his schedule.
"I'll be taking harder classes overall, and I'm excited. I'm going to try and still maintain that 4.0 and above, see if I can do it. And hopefully get a job at the end of the summer," he said.
Joshua is hoping next year will "slow down a little bit," as his first two years at DP have gone by quickly.
"I'm just excited for the rest of high school."
Leave a Comment
Donate to The Charger Account
Your donation will support the student journalists of Dos Pueblos High School. Your contribution will allow us to purchase equipment and cover our annual website hosting costs.
About the Writer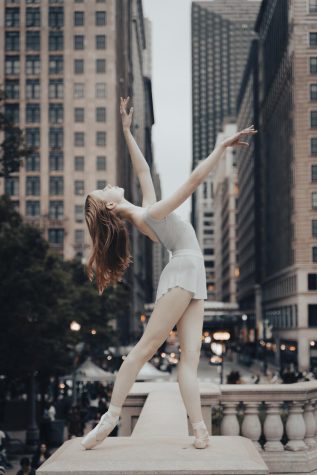 Evelyn Mills, Copy Editors
Sophomore Evelyn Mills practicing her Ballet dance routine. Evelyn has been doing Ballet since she was four. She would love to become a professional dancer...