Meet your homecoming royalty!
With all of the worthy homecoming court, only two can remain victorious: Ama Elmziat and Noah Severson.
Ama Elmziat (12) prides herself in putting others first, along with treating every soul with excessive kindness. People might see her as just an outgoing senior cheerleader, but as she is royalty, people might wanna learn about this queen.
Ama didn't start her cheerleading journey until her sophomore year. After progressively going to cheer more frequently, she started attending extra practices, leading to improving herself on her own time. "I would get excited. Before that, I had nothing that made me feel like that. I didn't do anything that was like, wow! This is something I'm really good at," Ama said.
Besides being a cheerleader at DP, she is also known as a mathematician. Most people probably wouldn't associate Ama with math, but calculus opened up her mind to something new. "I love solving math problems, it gives me a lot of satisfaction… Everything makes sense and everything works out. There's always an endpoint," Ama said.
It was the homecoming football game, and all of the homecoming court was standing out on the field, when all of a sudden she heard her name. The reality didn't hit Ama until her little sisters started to jump and cheer, then a tear came, then another, and another. "I always try to be nice to other people, I've always admired [the other candidates] for 4 years. It made me feel like people look at me like that, maybe the things I do matter," said Ama.
Ama finally got that feeling that she is the type of person that she looked up to all those years ago. "Everyday I try to be nice, do things that I love, and push others, which makes me think that I have an effect on people," said Ama.
To Ama, homecoming was out of this world due to all of the friendships made, the dancing, and the overall experience. "Everybody was so nice in the line and at the dance. I felt that I could be more outgoing. I just feel like I made a friendship with everyone at the school," concluded Ama.
Ama's philosophy is that, "You should just be nice to everybody. Everybody will be nice to you."
A prominent personality around campus, Noah Severson (12) can be known for his loud, positive attitude about everything in life. After being voted for by his peers, Noah is now a member of the notable Homecoming Royalty.
Noah is a man of numerous hobbies as he plays drums in the marching band, plays soccer and baseball, and is a member of leadership. Along with the drums, Noah has also been playing the piano since he was seven and has been messing around with the guitar for a few years now. "I just love it. I just love everything about music and creativity, the kind of endless limits you have," Noah said.
After an entire year of pleading with his mom to play the piano, seven-year-old Noah finally got his piano lessons. Being driven by his mom through countless ups and downs, he stuck it through. The ability to play the piano ushered new musical gateways, like drums and guitar. Beginning his adventures with the drums, Noah joined the Goleta Valley band, which then led him to the drum line at DP.
"I've always revolved around music and my life has always revolved around it," he said, "Whether I'm in a band, or just doing it for fun, or in the high school marching band, it's always been music."
After pure disbelief from being appointed as part of homecoming royalty, the following night of the dance was unimaginable. "Driving over to the party, we were blasting 'Pursuit of Happiness,'" he said. "We could feel the energy when we got there. Once we got to the dance, you could feel the sweat and energy that came out of there."
Noah emphasized the idea to find a home at DP and find people that have similar interests as you. "Just be yourself and follow your passions. My passion was music," Noah said. "Don't just limit yourself to one thing that you like, broaden your horizons to what possibilities are out there."
The other candidates on the Homecoming Court include:
Diego Vargas Martinez
Bryan Cruz Ordaz
Brett Jones
Rebecca Lennon
Riley Roggero
Maia Fassbind
Peyton Gray
Nelly Ruvalcaba Caudillo
Angelica Avila
Ava Hernandez
Jacquelin Duarte Torres
Ryan Orozco
Lily Nixon
Edo Barel
Arnav Wadhwa
Eoghan Gloster
Isa Mireles
Mia Termond
Leave a Comment
Donate to The Charger Account
Your donation will support the student journalists of Dos Pueblos High School. Your contribution will allow us to purchase equipment and cover our annual website hosting costs.
About the Writer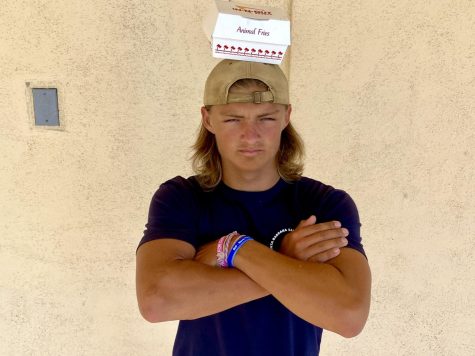 Lukas Ginder, Features Section Editor
Average Goleta local Lukas Ginder (24') encapsulates what it means to be from SoCal with a need to be at the beach, the love of having a good vibe, and...