Student Spotlight: Elizabeth Contreras Cruz
Elizabeth Contreras Cruz is a senior at DP counting down the days until she is able to move on to the next chapter of her life as a college student.
In her free time, Elizabeth enjoys partaking in relaxing activities like reading and the arts. She's skilled in a wide range of different kinds of art and has experience in everything from crochet to film to ceramics. She even enjoys drawing in kids coloring books.
"It's just, kids, they always mess up the colors and they always draw out of the line, so it's nice to be able to have something be perfect," she said.
Elizabeth discovered an interest in reading this past summer, specifically in the romance genre. She enjoys various books written by her favorite romance novelist, Colleen Hoover.
"I don't know why, but I jumped right into the romance series," Elizabeth said.
For three years, beginning in ninth grade, Elizabeth has had an interest in crocheting. It's been a good way for her to relax and deal with stress.
"For some of my teachers, they're pretty chill with me crocheting during class," she said.
She has made different types of projects, including tote bags made of granny squares, and recently began to take on crocheting stuffed animals.
Elizabeth applies her interest in art to her school life by taking various art classes. Out of the three art classes she's taken at DP, Elizabeth concludes that ceramics is the greatest.
"It's really hands-on, so you get to learn a lot. And it's a nice way to relieve stress," she said.
Despite her love for ceramics, her favorite class of her high school career has been IB film, a two year study that is part of the rigorous International Baccalaureate program. Elizabeth is an IB Merit Scholar, which involves taking at least three IB classes. The IB film class consists of watching and discussing films, analyzing the techniques used, and producing a film for the final project. Elizabeth's class only had 8 students in it her second year.
"Only me and another girl actually decided just to stick with it. And it was actually one of the best classes I ever took," she said.
Elizabeth went into the class with no experience in film and left with a passion for a new art form that she was able to add to her repertoire of artistic abilities. This turned out to be a great outcome for Elizabeth, who enrolled in the class only as a way to get out of her comfort zone.
"That's the only reason why I took it, I was just trying to get out there. And I feel like it actually did help, it got me out of my comfort zone," she said.
Because she had no experience in film, the class was a way for her to push through any nerves or anxiety that she normally wouldn't have when taking a class she has background knowledge in.
Elizabeth will miss DP (especially the teachers), although one thing she would add is more opportunities for students to get out of their own comfort zones, or a place students can go to if they ever feel lonely.
"Because when I was in elementary [school], I would find it difficult to make friends, and I was like the lonely kid. So I feel like it would be nice because I don't see a place here at DP where they have a little section for kids who are new and don't have many friends coming out of junior high," she said.
Elizabeth emphasizes how being comfortable with getting yourself out there is part of preparing for life as a college student, which is approaching fast for Elizabeth.
"In college, you're going to be put in those places where you really don't know what's going on and you really have to be able to adjust," she said.
Elizabeth's hopes for college involve a school somewhere north, and she's planning on majoring in business administration. Although her plans do not involve art, she hopes to incorporate it in her life to keep herself in a good mindspace during her college days.
Elizabeth encourages other students to feel comfortable putting themselves out there the same way she did, and to be kind and inclusive toward one another.
"Everyone should try to be friendly with each other. I know a lot of people say it…but it never really does get done. Everybody has their own little groups, but I feel like those groups should start expanding and try to be comfortable with one another."
Leave a Comment
Donate to The Charger Account
Your donation will support the student journalists of Dos Pueblos High School. Your contribution will allow us to purchase equipment and cover our annual website hosting costs.
About the Writer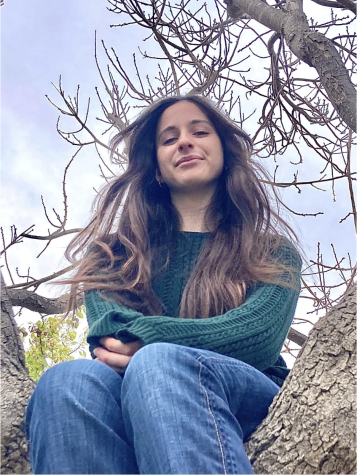 Ava Canfield, News Section Editor
In an alternate universe, sophomore Ava Canfield would be a hot pink or electric blue poison dart frog living by a creek in the rainforest, spending her...