Student Spotlight: Ollie McGrath (9)
Ollie McGrath is a freshman at Dos Pueblos High School where he said he enjoys the people, clubs, and supportive community.
On a typical school day for Ollie, he can easily be found doing a passion he's carried over from junior high: theater. Each day, he has around four to five hours of theater. It all started from trying a beginner theater class. "I did first semester theater, just like beginner, and it was really fun," Ollie said. "And now I'm in three theater classes. I have third period, fourth period, and an after-school program as well." In the after-school program, Ollie is preparing for DP's upcoming musical, The Music Man, in which he has a lead role. He plays a sad 10-year-old boy.
At lunch, Ollie stays in Mr. Shive's room. "He has a club every single day of the week, and I attend every single one," Ollie said. One of his favorite clubs is Jewish Student Union. "I'm not personally Jewish, but I like listening to the Rabbi talk. They always have pizza and the people are nice," Ollie said. He enjoys both the Rabbi's knowledge and the homemade kosher pizza he brings. "The pizza is really good but you actually have to stay," Ollie said.
Another one of the clubs he attends is Film Club, which aligns with his passion for film. He likes working with people while doing film. "We watch movies most of the time," Ollie said. "We are thinking about making an indie horror short film." Ollie definitely prefers the editing and technical parts of filmmaking, opposed to directing. "I like editing. I hate directing, absolutely horrendous," Ollie said. "I just feel so mean. Like, I just get angry, frustrated."
Not only is Ollie involved in many groups on campus, he is also a student in DP's Innovate program. He enjoys Innovate's curriculum because it better suits his learning style. "You get to choose what kind of subjects you want to learn and how you want to learn them. It's a better form of school for me," Ollie said.
At home, Ollie spends time with his many pets. He has a doberman and two cats named Roly Poly and Toad. He usually has squirrels at his house and even had a pet squirrel at one time, until it ran away recently. Currently, he's fostering kittens, which he frequently does. Ollie says he gets the kittens from ASAP (Animal Shelter Assistance Program) while they're super young and bottle feeds them. When they're fixed, they get adopted by someone else. "It's hard to get rid of the kittens, but you always get new ones," Ollie said. "We usually give them to people that we know. So then [we don't lose them] forever."
Leave a Comment
Donate to The Charger Account
Your donation will support the student journalists of Dos Pueblos High School. Your contribution will allow us to purchase equipment and cover our annual website hosting costs.
About the Writer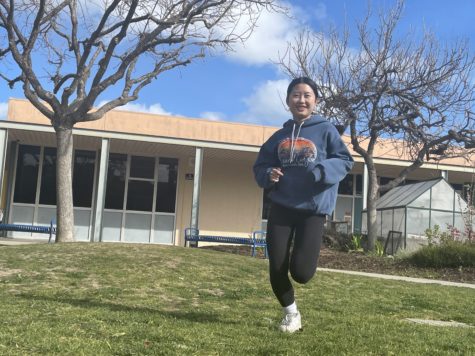 Anastasia Li, Copy Editor
Junior Anastasia Li started running with her dad during quarantine as a way to relieve stress. "I don't procrastinate because that makes me really...