Ivan Cornejo Y Su Gira
Ivan Cornejo es un cantante de Riverside, California, con tan solo dieciocho años de edad ha llamado la atención de varios con su música de amor y desamor, y es parte del género regional mexicana. El empezó con la música a la edad de siete años al empezar a tocar la guitarra, y con tan pocos años su papá le compró su primera guitarra. En entrevistas, él explica que fue influenciado por la diversidad que había en su casa como la música romántica, el mariachi, y los corridos. También, expresó como siguió los pasos de su abuelo. A los trece años, cuando Ivan Cornejo estaba en la secundaria pasó por un desamor y es cuando empezó a escribir sus canciones. Cuando él tenía quince años, comenzó a subir videos al TikTok tocando canciones de sus artistas favoritos. A poco tiempo de que los videos tenían millones de vistas le llegaron al patrón de Houston's Manzana Récords y lo motivaron y conversación a que firmara con la compañía.
Después de ser firmado a Houston's Manzana Récord, sacó su primer álbum titulado Alma Vacía, Agosto 20, 2021. El álbum Alma Vacía tiene siete canciones: Noche de Relajo, Llamadas Perdidas, Esa Carita, Corazón Frío, Estas en Mi Pasado, Te Sigo Extrañando, Está Dañada. Su segundo álbum que salió Junio 2, 2022 es titulado Dañado y tiene siete canciones: Está Dañado, Me Hiciste un Loco, J., ¡Corre!, La Curiosidad, No Me Quise Ir, y Perro Abandonado. Su tercer álbum que va hacer va ser titulado Dañado Deluxe, salió el 2 de Diciembre del 2022.
En el Octubre de 2022, Ivan Cornejo y su Houston's Manzana Récord, anunciaron que por primera vez iba estar de gira en los Estados Unidos. La gira en tan poco tiempo las entradas y boletos se agotaron. Ivan estará comenzando la gira al principio del nuevo año 2023 es parte 1 de la gira. Para comenzar la gira estará en Santa Clara, California, teatro The Catalyst el 31 de Enero. El 2 de Febrero va a estar en Los Ángeles, California, en el Roxy Theater. El 3 de Febrero en Riverside, California, en el Riverside Municipal Auditorium. El 4 de Febrero en Santa Ana, California, en el teatro Constellation Room. Febrero 7 estará presente en San Diego, California, en el teatro VooDoo Room. El 8 de Febrero va a estar en Phoenix, Arizona, en el teatro Crescent Ballroom. Febrero 11 estará en El Paso, Texas, en el teatro Lowbrow Palace. Febrero 14 estará presente en McAllen, Texas, en el teatro Cine El Rey. Febrero 15 estará tocando en Austin, Texas, en el teatro Antone's Para concluir la gira Febrero 16 va estar en Houston, Texas, en el teatro HOB Bronze Peacock.
Leave a Comment
Donate to The Charger Account
Your donation will support the student journalists of Dos Pueblos High School. Your contribution will allow us to purchase equipment and cover our annual website hosting costs.
About the Writer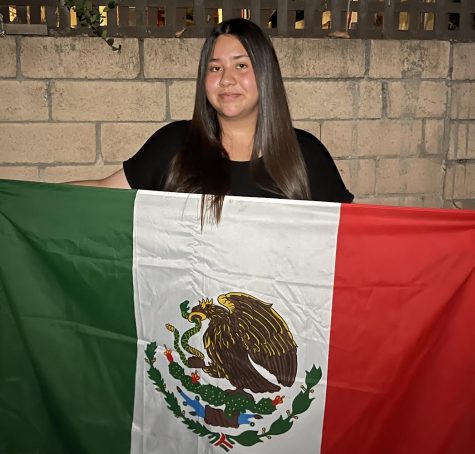 Citlali Ibarra Torres, En Español Section Editor
Citlali Ibarra Torres (11) joined Journalism hoping she could help all students feel welcome in the classroom as well as the website. She loves her culture...