Los orígenes Día de los Muertos
La celebración, Día de los Muertos, comienza el primero de Noviembre y se acaba el segundo de Noviembre. Todos ya saben que es un día de celebración en partes de latinoamérica. Pero, quizás, no todos saben porqué se celebra. El día de los muertos se remonta a 3.000 años atrás de rituales precolombinos dándoles honor a los muertos de Mesoamérica.
Los aztecas y los nahuas que vivían en lo que hoy es el centro de México tomaron una visión cíclica del universo y vieron la muerte como una parte integral siempre presente de la vida. Se pensaba que cuando moría una persona viajaba a Chicunamictlan, la Tierra de los Muertos. Pero, solamente llegaba uno después de pasar los nueve niveles difíciles. Lo cual fue un viaje de muchos años. Al final, podía descansar el alma de una persona en Mictlán, el último lugar de descanso.
Los rituales Nahuas en los cuales veneraban a los muertos tradicionalmente se llevaban a cabo en Agosto. Los parientes de las familias daban comida, agua y herramientas para ayudar a los fallecidos en su difícil viaje. Ahora, esto inspiró lo que hoy es la celebración de Día de los Muertos donde la gente deja comida y otros ofrecimientos en las tumbas de sus seres queridos o en sus ofrendas en casa.
Leave a Comment
Donate to The Charger Account
Your donation will support the student journalists of Dos Pueblos High School. Your contribution will allow us to purchase equipment and cover our annual website hosting costs.
About the Writer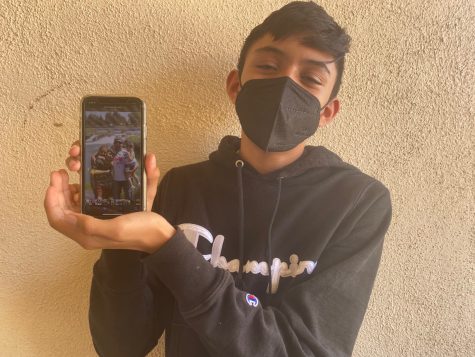 Diego Mena, Reporter
Diego Mena (10) casually shows a picture of his family, on their way to Yellowstone National Park. He values his family deeply, recalling fond memories...