An interview with Eamon Gordon
Eamon Gordon is a top cross-country runner at DP. He has been mentioned in DP News reports or general sports updates numerous times. Eamon has run cross country at DP since he was a freshman, and was running on his own long before that.
"My first experience with cross country was a 5K [3.11 mile] race. I was about [six] years old. It's pretty young," he said. "I really enjoyed that 5K." Eamon hasn't lost his love of running in the past few years, though. He has continued running both competitively and for fun while in high school.
Eamon doesn't have any plans to stop in the coming years either. "My hope would be that after high school, I will also run cross country in college. We'll see where it goes from there." As well as continuing his own journey, Eamon also wants to spread his love for cross country to other people.
"I think it is a very special sport," he said. "It's a great sport for everyone to experience…You might discover a love for running. The benefits of cross-country may be lifelong." There are many other reasons he enjoys running as well.
"One thing that I enjoy about cross country is sort of the activity of running," Eamon said. "And that's sort of obvious, but cross-country offers you sort of a calmness that you can't really replicate in any other activities."
He also said that he enjoys having to push himself and train often to succeed. However, he explained, this can have downsides.
"Your major event is a race…and races are often very uncomfortable because you're pushing your body to its limit," Eamon said. "[However,] it's something that you eventually get adapted to, and it helps mentally strengthen you…It's both a detriment and a benefit." Apparently, Eamon has pushed through this discomfort, as he is one of the highest-ranked runners in California. He ranked fourth of all 10th graders, and 45th of all California runners, according to Athletic.net.
"In terms of my times and performances in cross country, I think that it's a product of training, [and] just the dedication you put in every day," Eamon said. He also attributed his success to the support of his coaches and teammates helping him train.
Eamon believes that while cross-country is a sport that requires dedication and hard work it has many rewards, and that everyone should give it a try.
Leave a Comment
Donate to The Charger Account
Your donation will support the student journalists of Dos Pueblos High School. Your contribution will allow us to purchase equipment and cover our annual website hosting costs.
About the Writer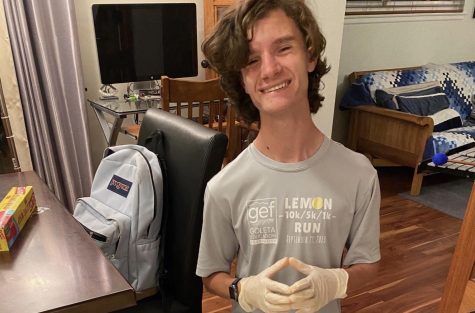 Nate VanDeVeire, Reporter
Nate VanDeVeire (10) has a massive interest in immunology formed by his approximately 10 allergies and is determined to become a physicist. Nate's constantly...