Ava Warmath discusses her award-winning design, architecture journey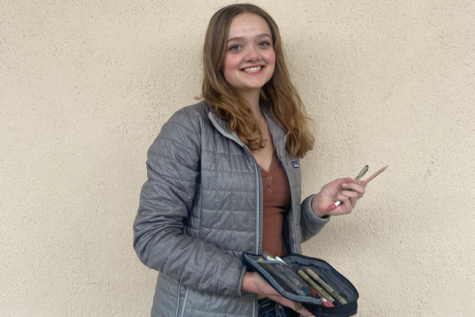 Senior Ava Warmath's architectural journey started at a young age. Her favorite architectural style is seen across Santa Barbara.
"I like the Spanish [style], red tiles, and rooftop incorporation in the architecture here," Ava said.
She also likes the stick-style, 19th-century, tight-fit houses in San Francisco.
Ava founded the Architecture Club because she wanted students who enjoy architecture to have a place where they could do fun activities. In the past, they've created a marshmallow stick structure and made gingerbread houses for the holidays.
Ava loves that people can use architecture to create permanent environments for other people. Her passion for architecture comes from the inspiration she takes from Mr. Gleason, an art teacher at DP, and her love for art and math. She also takes inspiration from the designs of local architect Jeff Shelton, which normally consists of a few waves coming in from the sides. His unique designs make his buildings stand out on State Street.
Recently, she won 2nd place in the Architectural Foundation of Santa Barbara High School Design Competition. The prompt for the competition was to create a community center. This included creating three drawings: a floor plan, a site plan, and an elevation view. Ava's plan was unique because she added a waterfall, which will help power the center.
"She was able to respond to the prompt well while still making the project creative and visually pleasing to look at," a judge commented.
"It's pretty cool to be recognized for my art," Ava said.
Architecture consists of many presentations in front of other architects, judges, and teachers, so being able to take constructive criticism is essential to grow in the competitive nature of architecture.
"You face a lot of criticism, so you're constantly having to adapt, but being able to see your design in the real world is probably the best part about being an architect. It's cool to know that you've created something that people can live inside," Ava said.
She plans on pursuing architecture as a career near the college she attends.
While modern architecture is fitting for the time period, it takes away from architectural roots and the variety of styles that helped create the modern style.
"I feel that the precision in detail kind of faded, so as an architect I want to bring back the intricate beauty of architecture that once was in the past," she said.
Leave a Comment
Donate to The Charger Account
Your donation will support the student journalists of Dos Pueblos High School. Your contribution will allow us to purchase equipment and cover our annual website hosting costs.