Ice Spice: Generational Talent?
"You thought I was feelin' you?"
Ice Spice is a New York rapper that has completely blown up in the music Industry. Born as Isis Naija Gaston in the Bronx, New York, she grew up listening to rappers like Lil' Kim and Nicki Minaj.
Before starting her music career she majored in communication at the University of New York State and played back row for the volleyball team; however, she dropped out during her sophomore year because she felt like she was "in the wrong place."
In March of 2021, she released her debut song, "Bully Freestyle," produced by RiotUSA. Her work with RiotUSA continued when she released her single, "Name of Love" that sampled EDM artist Martin Garrix and gained traction on soundcloud.
It has always been popular for artists to sample music from other genres but only recently have I seen electronic music being sampled into Ice Spice's genre. To me, I understand what they are trying to go after when sampling, but mixing electronic and Hip-Hop together only works half of the time.
At this point she was already cementing herself in the New York drill scene. However, when she released her breakout song, "Munch (Feelin' U)" in August of 2022, she finally took off, amassing a total of 75 million streams on Spotify.
Drill is a specific genre of hip hop which started in the early 2010s by artists like Chief Keef, Lil Durk, and Lil Reese in the Chicago area. It slowly started to mold and change when rapper Pop Smoke popularized drill in New York before his unfortunate passing.
My only other experience hearing drill outside of Chicago was Bobby Shmurda, who pretty much started New York drill in 2015.
New York Drill consists of fast moving drums and 808 melodies all on top of a sample from any genre of music. However, Ice Spice herself said she started rapping after being inspired by artists such as Sheff-G and Pop Smoke. Her musical style is definitely influenced by the Bronx and artists from that area.
But the biggest difference between her and most drill artists is that there are almost no female rappers in that sub-genre. Hip-Hop itself is very male dominated which makes it exceedingly difficult to start a career in rap.
I have very little exposure to female rappers in the current music scene; the only female artist that I've really enjoyed for a while is BKTheRula who is very different from Ice Spice. There are other more mainstream rappers like Nicki Minaj or Cardi B who I've listened to a small amount, but have never really appealed to me.
After Ice Spice released, "Munch (Feelin' U)" she started to gain serious traction on social media where she got her music video supported by WorldStarHipHop. This also prompted support from the rapper/singer Drake. From this point forward, her career was in full steam and she continued getting more popular.
Ice Spice's character was another large reason for her popularity, with easily recognizable orange hair and catchy lyrics. Her songs started blowing up on tiktok and several of her dances began being used in the masses by influencers and many others. She got signed to a record deal with 10k Projects and Capitol Records after her song blew up. Since then Ice Spice has released several more singles, including a collaboration with Lil Tjay, while also releasing her first EP, "Like..?" in January of 2023.
Ice Spice's most recent song was a collaboration with British singer PinkPantheress on their single, "Boy's a liar, Pt. 2," which was released in February of 2023 and is currently her most popular song. Her collaboration with PinkPantheress also reached #3 on the billboard chart top 100 after its release.
At the time of this article Ice Spice has a total of 37.8 million monthly listeners, which puts her in the top 100 most streamed artists on Spotify currently. It's no doubt that Ice Spice has already made a name for herself in the music world, but the question is, is she a generational talent or just another industry plant?
Gangster rap has slowly transitioned between genres throughout the years, landing in New York as Drill rap. Drill itself does have a lot of negative parts in it since most New York drill rappers brag about killing and other activities that cause the pain of others. Ice Spice, however, is leaving a very positive impact compared to her co-genre rappers.
Ice Spice's execution is very different from other New York drill artists. Almost all drill lyrics are about committing crimes and killing their enemies in the area that they live in. Ice Spice breaks these norms by rapping about herself/her body and relationships with other people. However, the most prominent theme in her music is the constant amount of sexual content. Almost all of her lyrics in her single "Munch (Feelin' U)" have sexual and explicit themes.
Especially for people outside of the generation that she targets, it is nearly impossible to listen to her. She's too inappropriate for young children and she might be seen negatively for various different reasons to older adults .
This might be unappealing to some people as it might make them uncomfortable, but you can't argue that her lyrics are very catchy. The first line of the song is the reason she blew up. The line is explicit, so it would not be appropriate to quote on a school website. But, this lyric is part of the reason her career fully started.
The song itself is one of the catchiest rap songs released in the last five years. There's always a song that just has everyone singing or knowing the lyrics and her single, "Munch," definitely earned its spot there.
Not a lot of artists have a line that you immediately think of when you hear their name. "Munch" is already a classic and one of the best New York drill songs that has ever been released. The only other drill song that's as catchy as "Munch" is Pop Smoke's song "Dior."
Moving on to her more recent projects, she has stuck with the same consistent style. Her EP, "Like..?" keeps with the same type of production and similar lyrical style from "Munch." She seemed to continue going after the same type of format "Munch" did by focusing on a catchy hook with simple production. Even though it might be a little bit repetitive in her music, that doesn't kill the actual music itself. However, she did dip her feet into trying to make party music; all of the music that she has released seemed more targeted for clubs or social events.
The EP itself was very consistent with all the tracks, but it also did not have anything new for her audience that would cause a reaction similar to "Munch." If the EP could be rated, I think it would just be solid. I think the only thing that keeps her down is the lack of diversity in her tracks. However, this is mostly because she released and made the EP in a short period of time, and EP's are only a couple tracks long.
I personally think that her EP did exactly what it needed to do: keep relevance and show that she is fully a part of the rap scene.
This EP is still a solid listen and I would personally recommend it for others to listen to. But, in my opinion, her best music is yet to come. Recently, she released her single, "Boy's a liar, Pt. 2" with PinkPantheress, and it blew up on the charts and social media. While PinkPantheress sings a catchy chorus that was part of her earlier single, "Boy's a liar," she is now being accompanied by Ice Spice in the middle of a song. She drops her best verse yet, really showing what she is capable of on something other than a drill track.
To the average music listener, she may not be for them. The explicit content makes it difficult to listen to or take seriously. On my first time listening to her, I honestly thought she was a joke/meme rapper that I was so used to seeing. But, after more listening and minor research, I realized the influence and impact that she would have. Her catchy hooks and lyrics reminded me of the rap group City Girls, which immediately got me hooked.
After digging deeper and listening to some of her previously released songs, I made a mental note that was, "She's cool." The New York drill genre itself was pretty unknown to me other than Pop Smoke, as I only really listened to drill artists like Chief Keef. But, I can say that Ice Spice pretty much got me into drill music. Her continual blow up throughout the music industry and social media has increasingly impressed me.
At the time in which this article is being written, Ice Spice is now one of the considerations for the 2023 XXL freshman class, which is a pretty high honor for an upcoming rapper. In the end, it seems that Ice Spice is an incredible talent who is still in their era of growth. Her next step is an album, and if she delivers on that, she will definitely be among the greats in Hip-Hop and drill.
Leave a Comment
Donate to The Charger Account
Your donation will support the student journalists of Dos Pueblos High School. Your contribution will allow us to purchase equipment and cover our annual website hosting costs.
About the Writer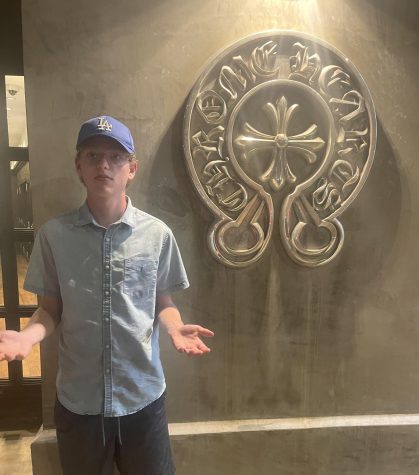 Eli Komaiko, Reporter
Sophomore Eli Komaiko smiles for the camera with his earbuds in. Perhaps he's listening to "Slay3r" by Playboi Carti, one of music fan Eli's favorite...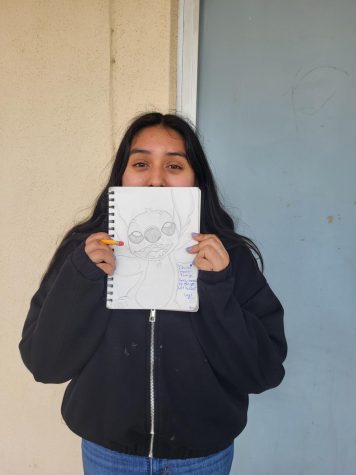 Lucy Cabrera, Reporter
Freshman Lucy Cabrera has been sketching out her emotions from a very young age. "I love cartoons. I love these little fantasy kinds of things, and I...