relaciones tóxicas
Las relaciones tóxicas traen mucha tristeza, ira y la sensación de no estar apoyado.
Muchos se encuentran en relaciones y tienden a dudar de sí mismos. Se cuestionan por qué se permiten estar en una situación que para ellos es una carga adicional. Piensan que no es lo que debería ser una relación. Al contrario, uno debe prosperar en una relación.
Las peleas son normales en relaciones pero, cuando hay más momentos desagradables que alegres, es cuando ya es tiempo de hacer un cambio. Las malas rachas dan prosperidad a la relación. Pero, cuando la relación se vuelve mentalmente, emocionalmente y posiblemente físicamente peligrosa para uno o ambos participantes, ya es tiempo de salir de la relación o considerar hacer cambios para mejorar la salud de la relación. Puede ser doloroso y profundamente angustioso que alguien a quien amas y con que confías te empiece a criticar.
Si hay una falta de amor propio, puede ser difícil alejarse de tales situaciones.
Sin importar si es debido a ti, ni de quién sea. Una vez que se encuentra ese amor propio, es mucho más fácil reconocer los problemas y saber cómo resolverlo para el mejor de ustedes. Si existe ese reconocimiento de la autoestima, podrás ser consciente si una relación o situación te beneficia.
El amor propio es un estado en el que sabes lo que vales y te priorizar a ti mismo; no te permitas estar en una situación que te controla y que no es saludable. El amor propio es una lección, comúnmente aprendida a través de una relación tóxica pasada. Además, para muchos es un momento de aprendizaje para llegar a amarse a sí mismos. El amor propio es importante porque, si no eres capaz de amarte a ti mismo/a, ¿cómo podrías amar a otro? Si uno se encuentra en una relación en la que solo parece recibir esa validación de la otra persona, se considera dependiendo de una persona, lo que no le permite encontrar esa autosuficiencia. ¿Qué vas a hacer una vez que esa persona se haya ido? Deberías ser capaz de traer consuelo y tranquilidad.
Leave a Comment
Donate to The Charger Account
Your donation will support the student journalists of Dos Pueblos High School. Your contribution will allow us to purchase equipment and cover our annual website hosting costs.
About the Writer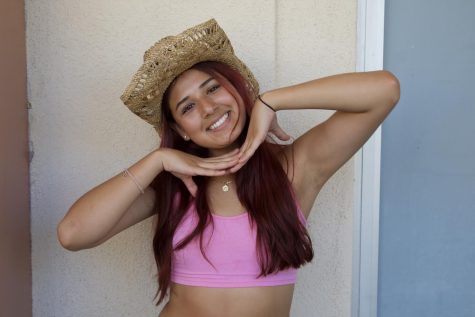 Ruby Rubio, Reporter
Ruby Rubio (11) reflects on her passion for horses and her family culture. Ruby grew up attending rodeos almost every weekend with her father in Bakersfield,...