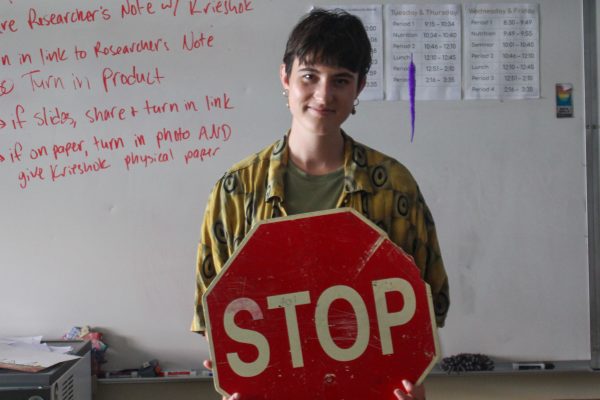 Krieshok grew up in a small, homogeneous town of only around 4500 people. A small town presented few opportunities, so when entering college, they had no specific aspirations. While growing up, she was always told she was great at teaching, so with no other ideas to turn to, at the beginning of college, they decided to become a teacher. When Krieshok started student teaching they realized that they had finally found a feeling they were missing in their life.
"I love this," Krieshok said. "I didn't know it was possible to feel happy and fulfilled and passionate in this way."
When Krieshok first started teaching, they hadn't come out to their family, and for them to openly discuss their identity with people wasn't something they were comfortable with. But when they started teaching at DP, they found themself in a different environment, an environment that they felt was accepting, which contrasted so much with the community they grew up with.
"If I was teaching there, then I would not be comfortable being like, fully out," Krieshok said. "And I mean, maybe eventually, but it would have taken a lot longer to get there."
During their time teaching at DP, they found themselves not quite in the closet, but still not entirely at ease being openly queer with others. But they would start to meet more students and staff that made them feel accepted, and one day, never really expecting it to happen, they came out to their students for the first time.
"Kids were saying, oh, we need to find someone for you to date, but there's not enough men, it would be so much easier if you were bisexual, and I was like, well, actually, I have good news for you," Krieshok said.
Krieshok would continue to teach and get to know more students and talk more about their identity. It was nice to relate to students with a similar experience and become more comfortable and confident with their own identity at school. Since then, Krieshok has been holding students to the expectation of facilitating the same inclusive environment that allowed her to grow, but facilitating that inclusive environment comes with its own challenges.
"I know that there have definitely been students who don't necessarily agree," Krieshok said.
These challenges are challenges nonetheless, but that doesn't mean they don't present opportunities. She appreciates that she can not only be a mentor and teacher to students, but also just a reminder that she is also just a regular person.
"I also think it's nice for them to just get to know a queer person," Krieshok said.
As a teacher, Krieshok has been able to connect and help many students. And whether helping them means helping them understand something by teaching them, or communicating with them in a way that makes them feel comfortable, Krieshok shows up, because that's what she does, and that's what makes her feel human.
"I feel like a human again," Krieshok said. "I feel like a person, in a way I haven't felt like a person in a long time."