Top 10 Gorillaz Deep Cuts
With their new album "Cracker Island" having been released a little over 2 months ago, Gorillaz fans are surely feeling blessed with the amount of music they've gotten recently. Going from more than 5-year hiatuses between releases, the digital band Gorillaz has now been consistently dropping music almost every year since 2017.
Some saw the new album as a slight disappointment that was leaning too much into mainstream pop, and some saw it as yet another redefinition of their unique sound. To really remind you (or inform you!) of how unique the band's music is, here are ten of their more unknown and underrated tracks.
10. "Dracula" (G-Sides)
"Dracula" is a perfect example of what is known in the community as "The Gorillaz Effect." Basically, if one of their songs isn't working at first, all you need to do is listen to it more and all of a sudden it will click.
The song is a chill, albeit a little creepy, slow paced dub track. It samples an episode of Looney Tunes called "Transylvania 6-5000" where Bugs Bunny meets the vampire "Count Bloodcount."
9. "Faust" (G-sides)
Faust is very reminiscent of Christmas time, maybe because the instrumental feels very dreamlike and relaxing. It's just easy to imagine a snowy little town when you listen to it.
You may believe the song is instrumental only, but when the vocals come in at about the last minute of the song it goes from good to great. 2-D and Noodle (her real voice belonging to Japanese singer Mito Hatori) singing together sounds and feels very cozy.
8. "Slow Country" (Gorillaz)
The instruments and samples used in this song perfectly capture a feeling of depression, and create a lonely atmosphere. 2-D sings about hopeless city life and the message that you won't get money from doing what you love. Some brilliant synths bridge the verses and the chorus, making you feel like the whole world stops for just a moment. The track ends with downbeat keyboards and 2-D doing a vocal skit, really sounding like all hope is lost.
7. "DoYaThing"
Released as an independent single, the song was created as an ad for Gorillaz's collaboration with Converse. The full version of the song is 13(!) minutes long and features James Murphy of LCD Soundsystem and Andre 3000 of Outkast. Starting out as joyous and jumpy, after five minutes the instrumental switches to abrasive and loud and Andre 3000 sounds like he's going crazy on the mic.
Sadly, due to the rights to the song being owned by Converse, the track isn't available for streaming on Spotify and most other streaming services.
6. "Hillbilly Man" (The Fall)
The Fall already being one of Gorillaz's most underrated albums certainly doesn't help "Hillbilly Man"'s popularity, but as it is it stands out as one of the best songs on the album. A relaxing guitar intro soon switches into an upbeat section of trumpets, with 2-D seeming to use some weird vocal effects. Doesn't seem that promising, but it works really well as a song.
5. "Fire Coming Out of The Monkey's Head" (Demon Days)
A story narrated by the late Dennis Hopper, the song tells a story of human greed and exploitation of the environment. It uses a bouncy beat, chilling synths and a ghostly gospel choir to really set the tone. The chorus feels very haunting, even more so when the song gets drowned out by loud, eerie wind.
Damon Albarn, previously Blur's frontman, started Gorillaz in the beginning of the 2000's. Picture from the 2010 Roskilde Festival. Bill Ebessen of Wikimedia Commons
4. "Sound check (Gravity)" (Gorillaz)
Crickets (that were apparently recorded in Jamaica) is all you hear in the start. The instrumental can faintly be heard in the distance and as it comes closer 2-D's falsetto vocals follow through. The song then takes a complete 180 and kicks into dusty hip-hop production with turntable scratches handled by DJ Kid Koala. Violins are later added which solidifies its spot as one of the best songs on their debut album.
3. "Hong Kong" (D-Sides)
Their second compilation album "D-Sides" held a lot of hidden gems, "Hong Kong" being one of the best. Not to be confused with "Hongkongaton," also released on D-Sides, Hong Kong is a very well-written heartfelt song about how depressingly beautiful the city is. The song is one of few that feels like it's actually sung from the perspective of Damon Albarn, and not his cartoon alter ego 2-D. A zither, piano, and guitar are all used throughout the track, all played amazingly well.
"Kid hang over here–whatchu learning in school? Is the rise of an eastern sun gonna be good for everyone?" Albarn sings, referring to Hong Kong being handed back to China. Tragic, yet so beautiful.
2. "Opium" (Song Machine)
Being placed as one of the bonus tracks, instead of being part of the original tracklist for Song Machine, made it so "Opium" received way less attention than it deserves. The song slowly builds up over two minutes before finally dropping, and when it does, it's almost euphoric.
The track features the hip-hop duo EARTHGANG, and they deliver some amazing verses. It all just flows incredibly well and they really ride the amazing beat. It closes out with a piano solo that's so soulful and smooth it takes us right to the honorable mentions!
Honorable mentions:
"Last Living Souls" (Demon Days)
The first real song after the intro on their sophomore album Demon Days, "Last Living Souls" works as a great opener and a great symbol for Gorillaz's music overall.
"All Alone" (Demon Days)
Combining what seems like three different genres into one great song. The features from English underground rapper Roots Manuva and singer Martina Topley-Bird really lift the song to a new level.
"Ticker Tape" (Humanz)
Humanz was Gorillaz's big comeback after a seven-year hiatus and the album received a lot of backlash on release. Sadly, it seemed like they made the same mistake they did with "Opium" in making one of the album's best songs a bonus track.
And now, for the number one pick…
1. "Stop the Dams" (D-Sides)
Beautiful. That's the only word that can describe this song, and that still doesn't do it justice. The song is incredibly melancholic while almost feeling like a lullaby, with beautiful guitar, horns, as well as raspy and heartfelt vocals from 2-D. The song was originally written and performed as a protest against an aluminum smelter and a hydropower plant that were to be built in Iceland. The facilities did end up being built, which somehow just increases the sadness this song holds. Near the end a member of the Icelandic duo "Ghostigital" does a spoken-word bit before the chorus comes in one last time, ending what I consider to be Gorillaz's best song.
"We need to unplug the dams/ You cannot stop the natural flow of thought"
-Einar Örn Benediktsson
View Comments (2)
Donate to The Charger Account
Your donation will support the student journalists of Dos Pueblos High School. Your contribution will allow us to purchase equipment and cover our annual website hosting costs.
About the Writer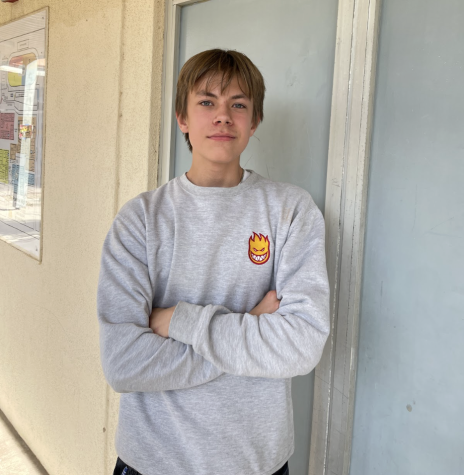 Axel Tenje, Reporter
Freshman Axel Tenje had an unfortunate McDonald's experience when arriving in the US from Sweden. After unboarding his flight his family went to get...