Prom fashion highlights
While the first Monday in May is reserved for one of the most iconic fashion events of the year, the Met Gala, the Saturday prior students at Dos Pueblos High School attended Prom 2023 with the theme "Golden Gala." Many students weren't sporting the color gold, but they all truly glimmered in looks which put their own personal styles and stories on display. In no particular order, here are 34 of the best looks from DPHS Prom 2023.
1. Sam Tujague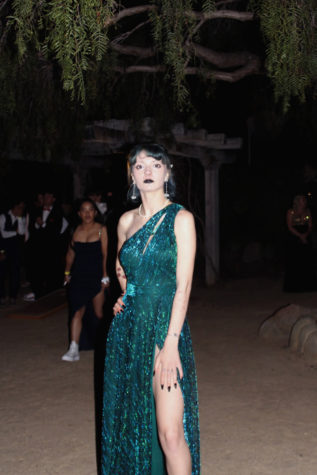 Senior Sam Tujague wore a sparkly green one-shoulder dress with a high slit. They complemented the look with their matching hair color and black lipstick.
2. Lulu Furst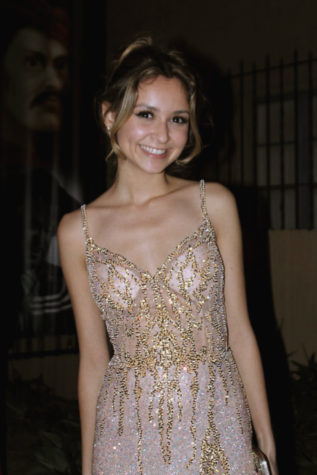 Senior Lulu Furst uplifted the "Golden Gala" theme by wearing a sparkly sheer-bodice dress with gold sequins beaded onto the dress.
3. Ava Hernandez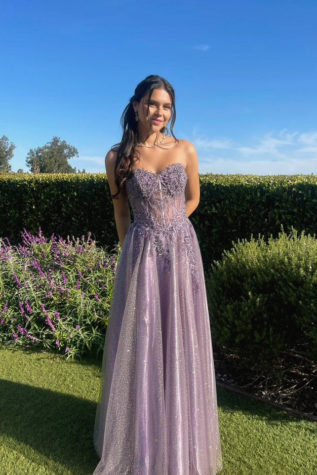 Senior Ava Hernandez showed up in a traditional form dress with embroidered details that made her dress unique. She completed the look with a set of jewelry that was passed down from her mom.
4. Allison Brodie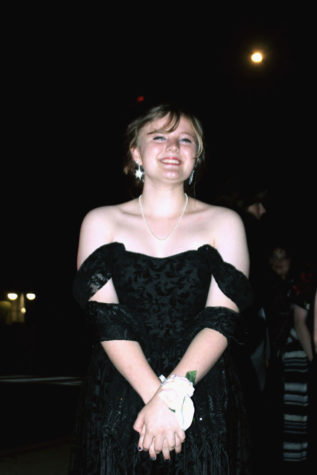 Senior Allison Brodie appeared in a velvet-patterned, black Windsor dress with a matching sequin black shawl. She completed the look with her mother's necklace and her handmade earrings and corsage.
5. Ama Elmziat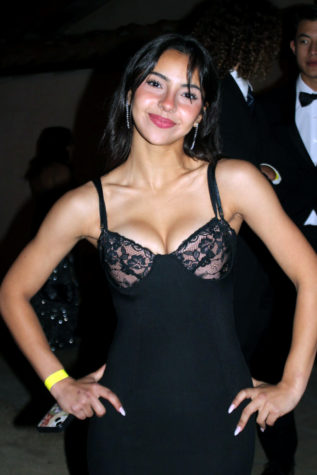 Dos Pueblos's reigning homecoming queen senior Ama Elmziat showed up in a fitted black dress.
6. Victoria Quintanilla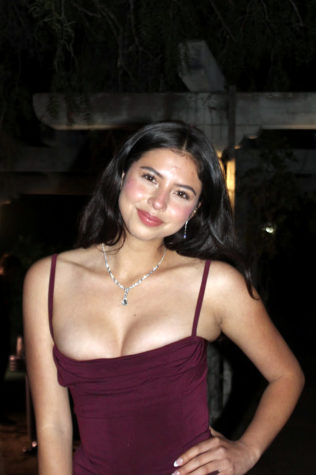 Senior Victoria Quintanilla arrived at Prom in a House of CB corset dress and completed the look with a necklace and earrings from Givenchy.
7. Andrea Delgado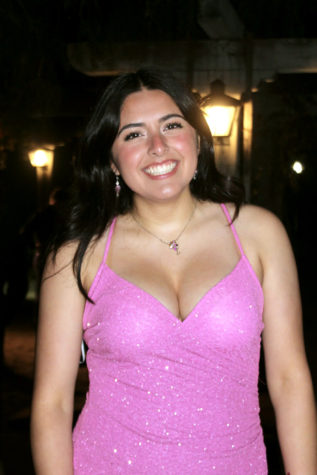 Senior Andrea Delgado showed up in a sparkly hot pink dress with matching pinkish purple jewelry.
8. Sarah Naretto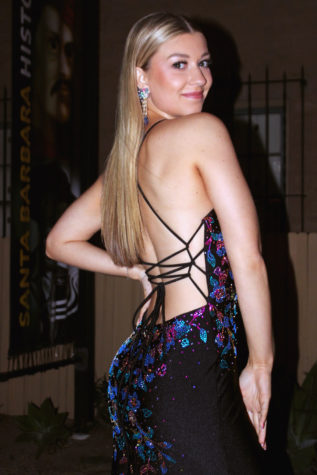 Senior Sarah Naretto showed up wearing a long backless black dress with colorful rhinestones bedazzled onto the dress.
9. Kasurina Rusky & Miguel Lopez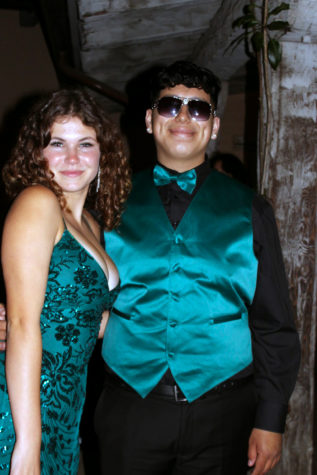 Sophomore Kasurina Rusky showed up with her best friend senior Miguel Lopez in a green dress that matched his vest.
10. Timmy Braun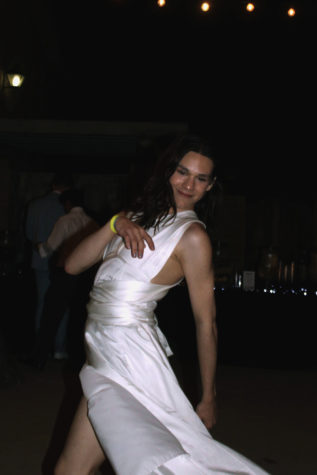 For Prom 2023, he showed up in a flowy white dress that gave off the Marilyn Monroe vibe.
11. Grayson Mills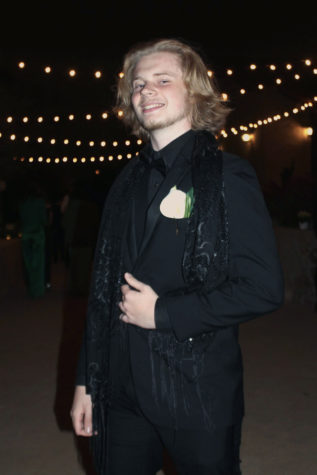 Senior Grayson Mills showed up at Prom in a black suit with a sequin mesh scarf.
12. Rebecca Lennon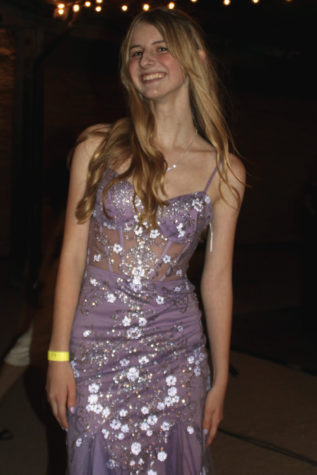 Senior Rebecca Lennon said she lived her Rapunzel fantasy in this lavender purple dress with white flower and sequin detailing.
13. Mia Reveles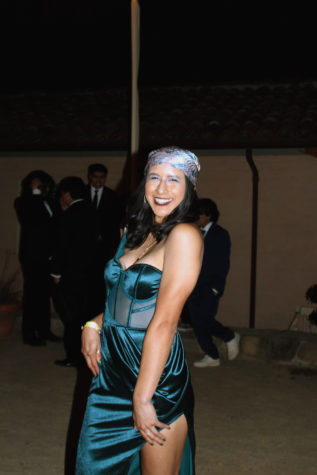 Senior Mia Reveles sported a tropical print bandana and a green gown with unique draping and a high slit.
14. Monse Chavez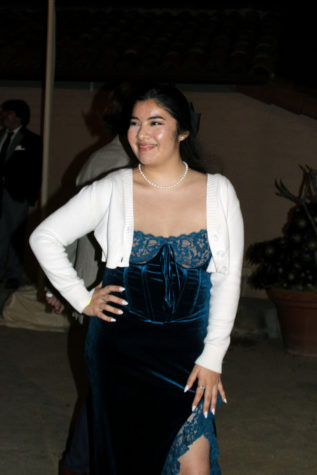 Senior Monse Chavez's looks pretty in a blue velvet dress with a white cropped cardigan.
15. Giselle Vargas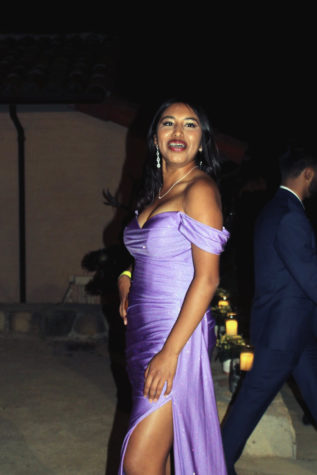 Senior Giselle Vargas showed up in a sparkly purple dress with a slit.
16. Ava Warmath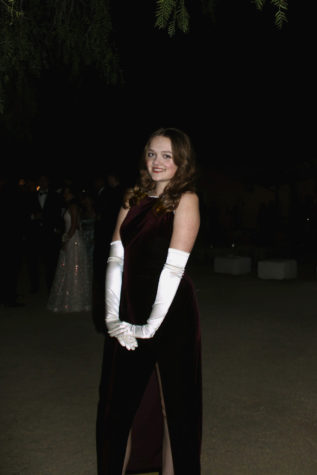 Wearing a velvet dark purple dress with a pair of white gloves, senior Ava Warmath said she looked like she just came out of the movie Breakfast at Tiffany's.
17. Rachel Lenchner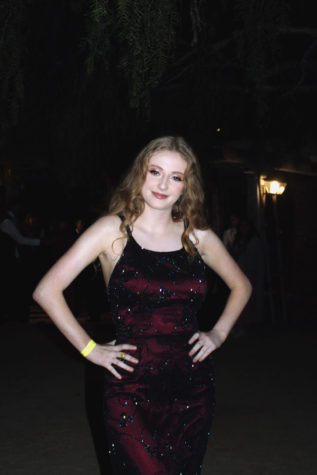 Senior Rachel Lenchner looked pretty in a vintage, hand-beaded maroon dress.
18. Evie Pazan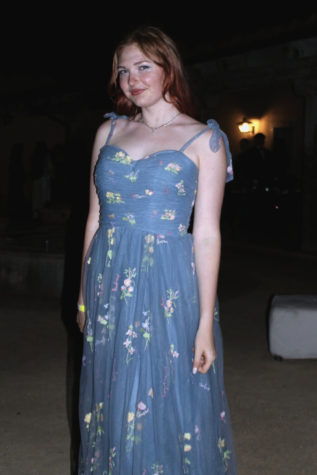 Junior Evie Pazan wore a blue dress with flower details.
19. Michelle Capuno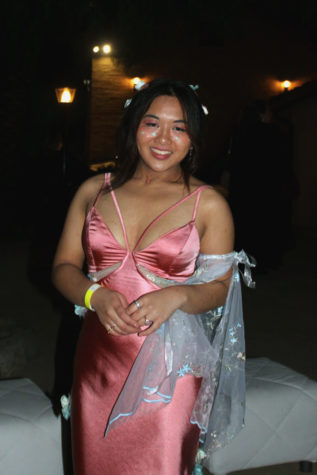 Senior Michelle Capuno arrived in a look with flower details that she added to her dress by herself.
20. Emma Gorman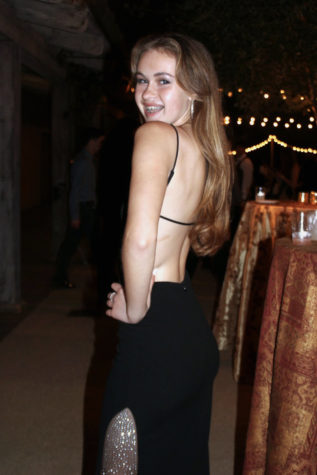 Sophomore Emma Gorman showed up in an unique black backless dress that had a slit covered in rhinestones.
21. Krow & Jared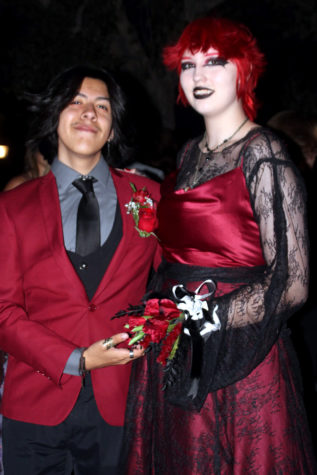 Senior Krow matched with his boyfriend's red suit in a red dress that he made himself.
22. Violet Vance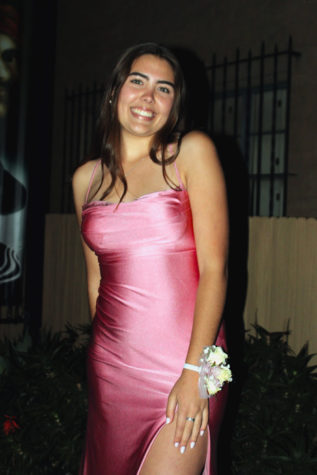 Junior Violet Vance showed up in a pink dress.
23. Eliana Frankenfield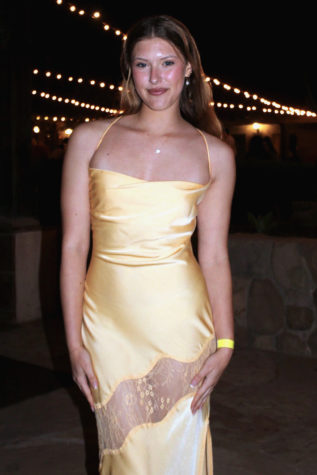 Senior Eliana Frankenfield appeared in a trendy yellow Meshki maxi dress.
24. Sam Campbell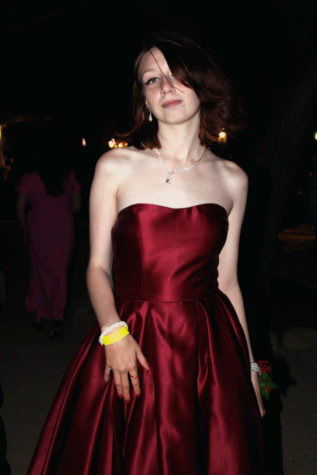 Senior Sam Campbell wore a red satin Lulus dress.
25. Angelica Avila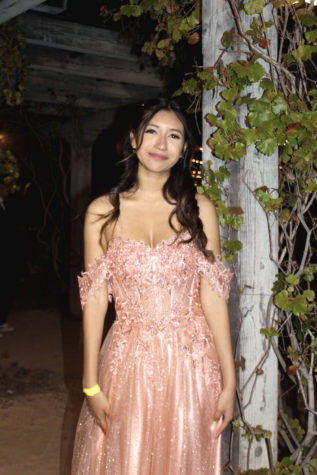 Senior Angelica Avila wore a pink sparkly dress with unique details.
27. Beril Vuril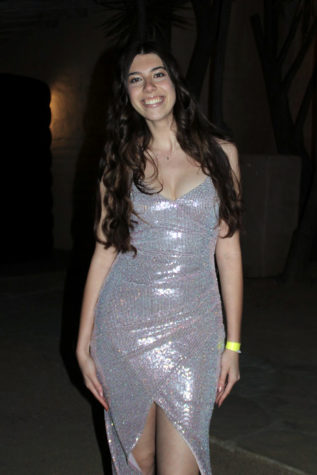 Senior Beril Vuril shined in a sparkly dress.
28. Kaley Orquiola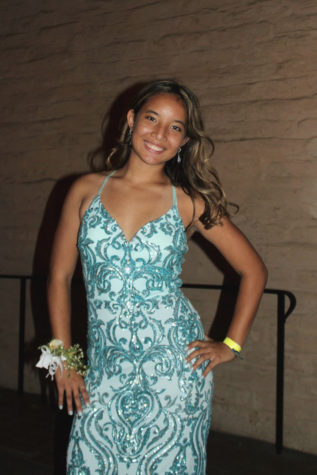 Senior Kaley Orquiola's wore a light blue dress
29. Jt Wheeler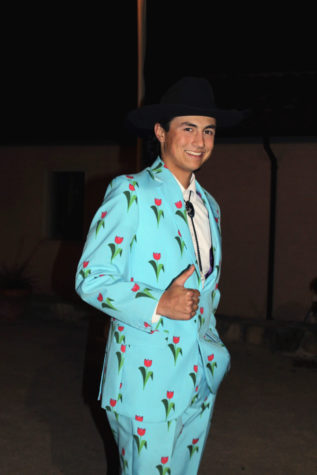 Senior JT Wheeler rocked a blue suit with a flower print and completed the look with a cowboy hat.
30. Phuong Pham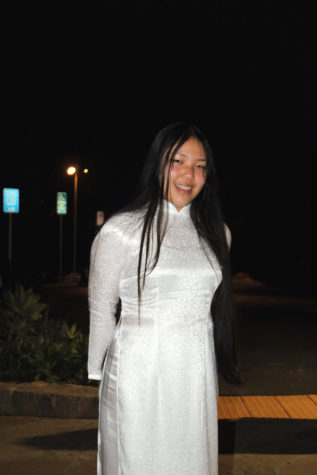 Showing up uniquely in Vietnamese traditional wear, Ao Dai, senior Phuong Pham in her white dress with floral details.
31. Io Zhu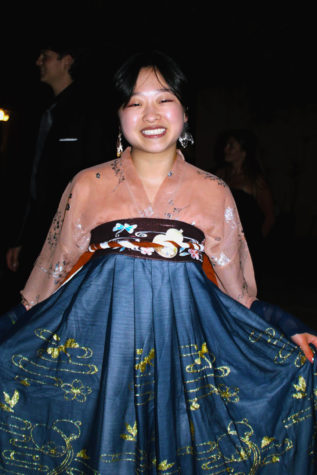 Senior Io Zhu wore a Hanfu, a Chinese traditional dress with golden details on.
32. Kagedanille Aguilera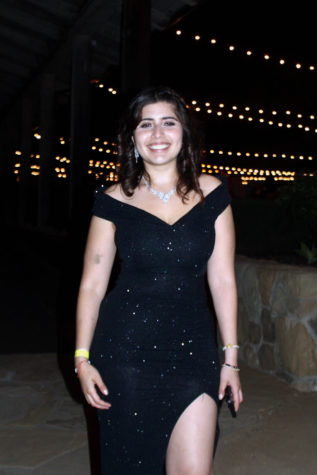 Senior Kagedanille wore a sparkly black dress and her jewelry.
33. Lily Crestfield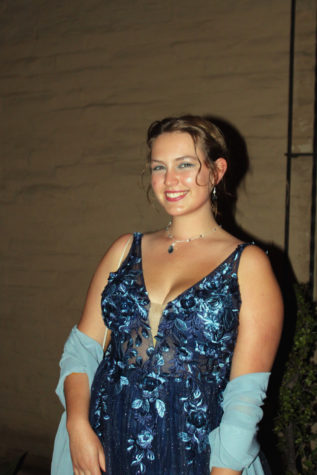 Senior Lily Crestfield showed up in a dark blue dress that had detailed embroidery. She also wore a light blue shawl.
34. Principal Woodard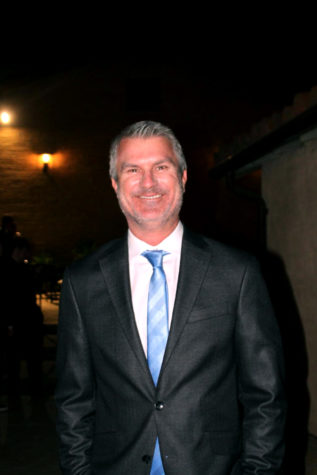 Principal Woodard said he slayed in his classic Calvin Klein suit.
View Comments (1)
Donate to The Charger Account
Your donation will support the student journalists of Dos Pueblos High School. Your contribution will allow us to purchase equipment and cover our annual website hosting costs.
About the Writer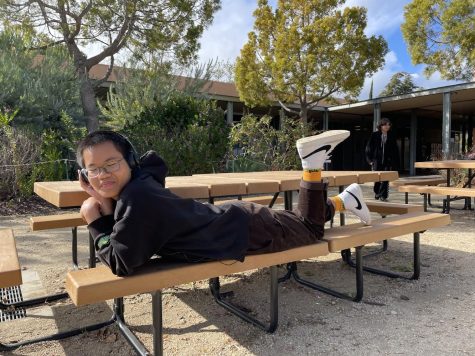 Minh Phan, Reporter
Sophomore Minh Phan listens to music outside. Music is a big part of Minh's life and his favorite artist to listen to is Lady Gaga. "I listen to music...