Thumbs Up or Thumbs Down: Students Share Their Thoughts on States Banning Social Media
On March 23, 2022, Utah became the first state to ban social media for those under 18 unless parental consent is given. Other states including Iowa, Connecticut, and Ohio have proposed similar measures.
Legislators' goal is to improve teen mental health by targeting the strong correlation between the growing role social media plays in society and the increase in mental health issues including depression, anxiety, and negative body image.
Students at DP agree that there are harmful effects from social media. Extreme hate can be prevalent. English teacher Ms. Savio acknowledges that social media has benefits, but also that things can easily spiral in a negative direction.
"I think that there are some real benefits to social media. But I think like anything, there's some sort of balance that you need to find. Anything on the internet can get really dark and twisty really fast," she said.
"I think that it tends to be an 'echo chamber.' It really brings out the worst in people," junior Koda Benelli said.
Social media's addictive design can be problematic.
"People are spending way too much time on [TikTok]. It is a drain for younger people. You watch too many videos and doing it will rewire your attention span, how you focus on some stuff. And that could be some problem for some when it comes to younger students or younger kids," senior Johnny Bish said.
Although social media is easily addictive, it's also a convenient source of information and entertainment.
"It's so addicting. It has a negative impact on people's mindset but also it gives really good information that the news doesn't give to people," sophomore Cal Barte said.
"TikTok can get pretty addictive, but it's my main source of news and entertainment, as corny as it sounds that I get news from TikTok. It's the easiest application I get it from," sophomore Stas Golenchenko said.
Sophomore Abygal Perea, an only child, finds the entertainment social media provides especially supportive.
"With social media, I feel like it'd be bad if we did take it off. Because as an only child, for me, it's my only source of entertainment. And I feel like if they took it away, I would be very depressed and wouldn't know what to do," she said.
Students also find value in how social media allows them to create and maintain relationships.
"There's obviously still merit to social media. People keep in contact through it, and you meet new people through it," Koda said.
One way social media connects people is by giving users a platform to share their passions and find a community of people with similar interests.
"I am an artist so I can share my art and look at other people's art and get inspiration from it," sophomore Cam Middleton said. "I think that nowadays adults…just assume that it's always terrible, when in fact, if I see my friends doing something they love, I'll get happy, I love it."
Perhaps the solution isn't to completely ban social media, but rather to take a less restrictive approach to make it healthier for teens.
"I think when you have sweeping bans on anything, it can be problematic. So I wonder if there are some more thoughtful ways of approaching social media and students' mental health because I do agree that it's an issue, but I'm not sure that just straight banning it is the correct answer," Ms. Savio said.
"I think it's kind of stupid because a lot of other things are addicting, like drugs and stuff, but they're not like taking an insane amount of steps like they are with social media for some reason. It's kind of crazy," sophomore Quill Inda said. "I think we should focus on making social media mentally healthier than getting it banned."
Leave a Comment
Donate to The Charger Account
Your donation will support the student journalists of Dos Pueblos High School. Your contribution will allow us to purchase equipment and cover our annual website hosting costs.
About the Writer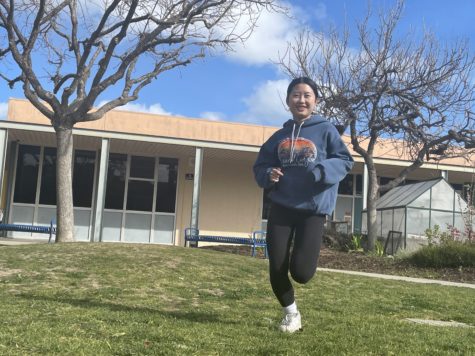 Anastasia Li, Copy Editor
Junior Anastasia Li started running with her dad during quarantine as a way to relieve stress. "I don't procrastinate because that makes me really...