Florida Republican Rep. Stan McClain
On Wednesday, March 15, during a subcommittee hearing at the Florida House, the Florida Republican representative Stan McClain sponsored the newly introduced House Bill 1069. The new addition of the House Bill 1069 would ban the discussion by teachers to students of sexually transmitted diseases, human sexuality, and other related topics in public schools before certain grades.
It would also prevent certain discussion of the menstrual cycle between grades K-6 in public schools. This would not prevent students talking about their menstrual cycles to other students, but it would prohibit teachers openly discussing this topic with their students. Typically, in 5th grade, students have a discussion with their class about sexual health; this law would ban that discussion in schools before 7th grade.
"Does this bill prohibit conversations about menstrual cycles?" asked state representative Ashley Grant during the subcommittee hearing. "We know that typically, the age is between 10 and 15, so if little girls experience their menstrual cycle in fifth grade or fourth grade, would that prohibit conversations from them since they are in a grade lower than sixth grade?"
To that, McClain replied that "It would." Later in the hearing, McClain said that the intent of the bill was not to punish young girls.
Along with banning teachers talking about menstrual cycles with their students, House Bill 1069 would declare that a person's sex is an immutable biological trait that cannot be changed over time and it is incorrect to call someone a pronoun that does not match their sex. An employee, contractor, or student at a public K-12 school would not be required to call someone a pronoun that does not match their sex.
Instruction of sexual orientation or gender identity will not be taught in grades pre-kindergarten through 8th grade in a public school. Public schools also teach abstinence from sexual activities outside of a marriage. The benefits of a monogamous heterosexual marriage will also be taught.
Although the House Bill 1069 has not been signed yet, it is expected that it will be signed by the Florida Governer Ron DeSantis.
DeSantis has previously said that he wants to reject "woke ideology" in Florida.
"This bizarre but prevalent ideology that permeates these policy measures purports to act in the name of justice for the marginalized," he said. "But it frowns upon American institutions. It rejects merit and achievement. And it advocates identity essentialism, we reject this woke ideology…We will never surrender to the woke mob. Florida is where woke goes to die."
DeSantis has also recently signed bills that place a ban on transgender athletes participating in girls and womens sports.
This law would take effect on July 1, 2023.
View Comments (6)
Donate to The Charger Account
Your donation will support the student journalists of Dos Pueblos High School. Your contribution will allow us to purchase equipment and cover our annual website hosting costs.
About the Writer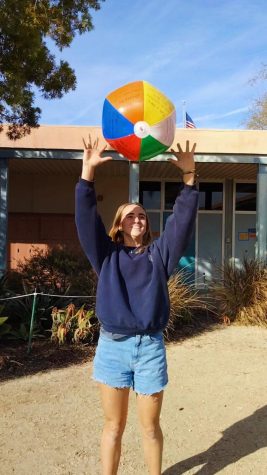 Eleni Becker, Social Media Editor
Eleni Becker playing with the beach ball. Eleni Becker is a freshman on the JV volleyball team of Dos Pueblos High School. She loves listening to music,...