DP takes a stand against discrimination with SBUnified's I.U.WE. Campaign
Last month, the Santa Barbara Unified School District launched its I.U.WE. campaign. The campaign began as a response to the uptick in racial incidents, specifically anti-blackness, and then shifted to address overall discrimination. One way the campaign seeks to address these issues is by establishing a sense of community.
"They wanted this campaign that would focus on creating relationships and creating community. And so it's like, how can we make people care? How can we create those relationships between people so they want to support and uplift one another?" said junior Kavya Suresh, SBUnified's student board member.
The campaign kickstarted with a video featuring students from the Superintendent's Student Advisory Council, which consists of high school students who collaborate with district leadership and provide student feedback. The video would be shown in SBUnified schools, and the district wanted to create something that would resonate with students.
"We wanted to make sure that it was something that stuck with people and something that was created by students, led by students, featuring students in messaging that could be conveyed to students," Kavya said.
The video was filmed during a Superintendent's Student Advisory Council meeting in the DPNews studio.
Each student in the video said what they stood for. According to Kavya, this was a strategic approach to communicate a compelling message.
"It just isn't effective to say things in the negative, like, don't do this, and don't do that. It's just more effective to be like, do this and do that," she said. "We wanted to invite students to share what they personally believe in and what they personally support. The video was like, let's showcase what students across our district stand for also, so that way, we can tell people this is what our whole district stands for."
Mr. Dent, DPNews's co-advisor, and senior Gabriel Casselman, DPNews's co-producer, directed and controlled the visual aspects of the video. They coached the students to say their lines in a way that conveyed the serious nature of the topic while still being positive.
"[We wanted them to have] the right somberness and enthusiasm. It's a hard thing to describe because it's a very serious topic, but we don't want them to just be boring, straight-faced. We want it to be more positive than negative. It's 'I stand,' even though it's in response to certain things that happened," Gabriel said. "It's still a positive video, and they were looking for positive change. So we wanted to see positivity, smiles, laughs, happiness, things like that."
The students were not in full control of the video due to differences between their vision and the adults' vision. This meant the messaging in the video had the potential to come across as vague.
"We weren't entirely in control of the message that we were putting out there. And I think that's why there is a chance for the video to come off as scripted, or unnatural, or kind of uneasy. You hear some of the bits where people are like 'I stand for this.' And then it feels almost too vague or too broad. Because it's like, what does that even really mean?" she said.
After the video was finished, schools were to show the video to their students. For DP, the campaign served to address discriminatory issues in a preventative manner.
"Being more visible and being more proactive about addressing things before they become issues is what we're wanting to do now, rather than waiting for things to happen then reacting. We want to address them proactively, and do things that are going to be more positive for our school community that connect to our school values anyway," Mr. Woodard said.
On Thursday, February 23, the day before the campaign was going to be launched, DP's entire staff met to talk about launching the campaign. The plan was for teachers to review SBUnified's new board resolution called the Respectful Treatment of All Persons, show the campaign video, and then lead a discussion during seminar. At the staff meeting, admin modeled the presentation and discussion for the teachers.
Mr. Woodard felt enthusiastic and confident in the staff to execute the campaign and assured them they would be provided support if needed.
"Some are more comfortable doing this kind of conversation than others. We let the teachers know, if you need our help, we'll be in your classroom to help you with it," he said. "Teachers were fired up, like, let's do it, let's take a stand."
The short notice of the implementation of the campaign presented some challenges for teachers administering the presentation.
"Given how quick it was, it was hard to process and try to figure out what's the best way of communicating it for our individual classes," said Ms. Lorenzano, an english and ethnic studies teacher.
Even though she does have similar conversations regularly as an ethnic studies teacher, she felt anxious going into the seminar and that the seminar environment wasn't optimal.
"It almost fell out of place in a seminar setting. Seminar is usually dedicated to the student working and all of a sudden, this was like something that was very purposeful and meaningful, but it just felt dropped in…[The] majority of my students are on my roster, but some of them are not. And so me being that authority figure to have this conversation with them, I don't know how comfortable they were with me leading that conversation," she said.
In her seminar, the environment was more serious and quiet, which called into question what the optimal tone for this type of discussion is.
"My seminar students took it very seriously. It was very quiet because I think they understood the tone overall. I don't know if that was the tone that we were going for. Yes, it's serious, but we also want to have this open dialogue," she said.
Overall, she feels that the discussion went well.
"Some of them have really great questions. How many of them asked questions — not that many. I wish I would have had more but maybe they felt satisfactory with the conversation overall. It was an okay conversation. There were no big hiccups or distractions, people stayed focused on the topic for the most part," she said.
Ms. Lorenzano thinks the key takeaway from the campaign is how it's initiating conversation surrounding discrimination.
"As long as the conversation is happening, and people are thinking about these things, and the fact that these incidents are not something that you just read in the headline, but are happening in our school environment, I think it's a good starting point," she said.
According to the survey Mr. Woodard sent out after seminar, most of the feedback on the campaign has been positive.
"Most are like, thank you for doing this, it's about time, I'm glad that teachers are taking a stand, that helps us as students, be more empowered," he said. "But overall, I would say I'm pretty pleased with the way that our school community is responding."
However, some students who responded to the survey were cynical and skeptical about the campaign, thinking it will be a one-and-done thing. Mr. Woodard believes DP needs to take action in addition to having these conversations.
"We have to make sure that we don't just talk the talk, but we need to walk the walk," he said. "It's one thing to say we take a stand against slurs and bias on our campus, and it's another thing to see it put into practice."
Mr. Woodard is optimistic about making DP a safe space for its students. He stressed how important it is for students to report incidents they see and provide feedback in this process.
"It's important for students to report back to us if things are working or not. They also need to be able to feel free to report things to us," he said. "I am optimistic, but I also want to make sure that the students feel like things are changing, and that's the ultimate test of whether it's working or not"
Mr. Woodard wants students to be empowered to lead the change they want to see. He believes it is necessary for students to lead this progress and for admin to support the students.
"The next steps are making sure that we listen to students and that we find ways for the students to take the lead in this work, and adults and admin are here to support the students," he said.
In addition, he believes education will be a crucial tool.
"I think one of the next steps, really, is for us to continue our education around the history of slurs and why they have the power to hurt if they do," he said. "Let's use education as our power to change things."
Leave a Comment
Donate to The Charger Account
Your donation will support the student journalists of Dos Pueblos High School. Your contribution will allow us to purchase equipment and cover our annual website hosting costs.
About the Writer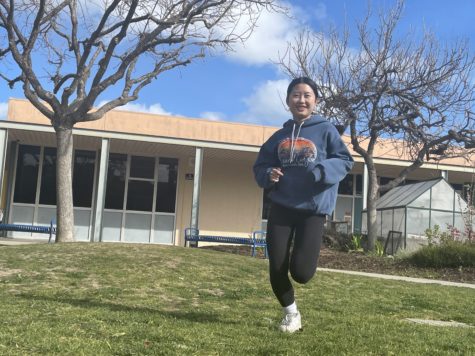 Anastasia Li, Copy Editor
Junior Anastasia Li started running with her dad during quarantine as a way to relieve stress. "I don't procrastinate because that makes me really...