Gabe Mangold of Enterprise Earth talks starting a band, new music, and being a touring musician
Gabe Mangold is the lead guitarist of American deathcore band Enterprise Earth.
This interview was conducted on Dec. 20, 2022, before the release of their new single "Death Magik."
Joaquin: When did you start playing music and what instruments did you play?
Gabe: So, my first instrument was drums actually. When I was ten my dad got me a kit and got me lessons. I played drums for about three years and then picked up a guitar when I was 13. It's pretty much just been guitar since then. I started playing in bands when I was like 17 or 18 or something like that, towards the end of high school.
Joaquin: What bands or musicians inspired you to play at that time?
Gabe: I discovered Pantera and like 80s era Metallica, Megadeth, Slayer, and Testament, and all that good stuff. I was very big into old school thrash and death metal stuff like Death. All the old classics. I just grew up loving that stuff. And yeah, so big influences for me were Dimebag and Paul Gilbert. I'm a big fan of all the old shredders, a huge necrophages fan, so Muhammad Suçimez was a big one for me. And I also love the blues, so it would be like those guys and then Stevie Ray Vaughan.
Joaquin: When did you first start playing shows?
Gabe: I think my first show I was like 17 or 18. It was like my senior year in high school and I had an old band called Hyperion. It was a progressive thrash metal band. I started playing shows around then, and then I kind of played in a bunch of local bands in Pittsburgh. I also played in a cover band with my dad. We just played like classic rock hits from throughout the decades. I just played in local bands for a while and cover bands for many, many years. I actually quit music for a minute and then I got the offer to join Enterprise when I was 25 or 26, something like that. And here we are.
Joaquin: When you joined Enterprise Earth, what was handling the style switch like? Going from playing thrash and rock to deathcore and death metal?
Gabe: It wasn't new to me, but I had never really been in a band like that before. I used to have an old band called Delusions of Grandeur and we were like progressive djent, whatever you want to call it. It was a more djent metalcore type of thing. I never really wrote stuff like that, so it was a fun process like kind of adapting to that at first because, you know, I had to cater my writing style to that and then over the years I've been able to continue to put more of my influences and natural tendencies into the music and now it's just kind of its own thing. We kind of just do whatever you want and just try to write fun songs and have a good time and that's really it.
Joaquin: What was your favorite Enterprise Earth show to play and favorite Enterprise Earth song to record?
Gabe: My favorite to record would probably be The Chosen, our latest album, which came out on January 14 this year. That was my favorite for many reasons. One, I felt like it was our strongest in songwriting overall. It was the first album that I produced, mixed, and mastered in my little trailer studio. So that was the first full production that I did for my band in general. So that was very, very, very important to me, you know, playing on the album release with "Fit For an Autopsy" show in January was great because we got to play a lot of new songs live. The headliner that we did in the summer was also great because we got to play like eight or nine songs off the album as well. A couple songs, we'll probably never get a chance to play again. But it was really fun, being able to play them on our headliner.
Joaquin: You have two new singles coming out in January of 2023 and a new album in the fall, can you tell us more about that?
Gabe: So we got two brand new songs coming out in January. That will be out very soon. I won't spoil anything, but yeah, they're both seven minutes long. I tried to keep them short, but they ended up being big long epics, just because that's just the way we do things here. But regardless of that, they're both super fun songs that showcase different sides of the band. One super heavy and aggressive and the other like super melodic and 'proggy' vibe. It's still heavy, of course. As soon as we get back from our Europe tour with Shadow of Intent, it will be time to write and record our new album and hopefully we will have that sucker out by the fall.
Joaquin: You've experimented with melodic sections before, your song Psalms of Agony has a clean section in the middle, what inspires you when writing clean sections and what inspires the heavier sections such as breakdowns?
Gabe: Yeah, so I'm a huge Opeth fan, sometimes maybe I'm just ripping off Blackwater Park or Watershed because I just love those albums. I've always admired Opeth and just their songwriting and song structure. So anytime there's an acoustic passage it is typically very open and inspired. And then the breakdown stuff, just anything nasty. Just anything gross and disgusting. During the ending breakdown in "Psalms of Agony," I was kind of thinking like, what would Kublai KhanTX do if they shredded a little bit? But like, you know, my version of that. So basically, that's what the end of that song was.
Joaquin: What's it like having a major lineup change while in a band?
Gabe: It's always a difficult thing. You know, this band has had a lot of people in it. There was a revolving door of musicians before I joined in 2017. And there was a lot of changes after I joined too, and it feels like we finally settled into this very strong four piece that we are now. And yeah, it's always rough because sometimes the changes are unexpected. Sometimes you can see them coming. But it's difficult because you know, these are people that you talk with and work with every day, you live in a van for a couple months at a time on the road. Whenever changes happen, it's very difficult. You know, it's like, you know, losing a friend, losing a brother. But all the changes happen for a reason and all that happened for the better. Obviously the biggest one we went through was changing from Dan to Travis, this year, and last year whenever Travis started filling in, so yeah, that was very difficult. We weren't sure how the fan base was going to take it because Dan's the last founding member, he obviously has a strong online presence, and has this cult following thing. But Travis came in and just absolutely crushed it and any concerns were immediately dismissed as soon as he kind of came in and started doing this thing and fortunately the fans took to Travis very well so they seem to be liking the new song a lot. And we're very excited to release these new songs and get this new album done with Travis.
Joaquin: Do you have anything to say to either any Enterprise Earth fans at DP or just anyone reading this in general?
Gabe: Thank you so much for enjoying our music, you know for listening and supporting and seriously means the world because we can't do this without everyone out there helping us out. So, thank you is what I would say.
Enterprise Earth's new single "Death Magik" is out now streaming on all platforms.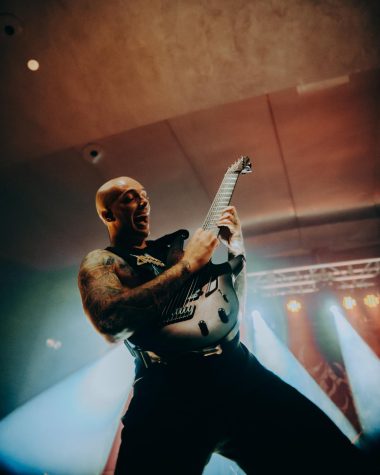 View Comments(1)
Donate to The Charger Account
Your donation will support the student journalists of Dos Pueblos High School. Your contribution will allow us to purchase equipment and cover our annual website hosting costs.
About the Writer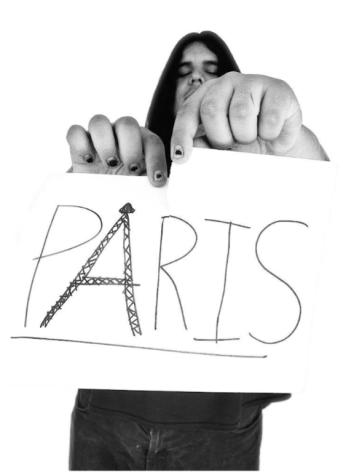 Joaquin Santamaria, Reporter
Joaquin Santamaria (11) aggressively tears a paper that says Paris, showing his hatred towards the "City of Love." He said he doesn't want to visit...