World's Greatest Futból Player
The story begins in Rosario, Argentina on June 24th, 1987. A baby boy was born, but it wasn't an ordinary boy. This boy would grow up to be one the greatest soccer players of all time. He started playing on dirt roads, kicking any type of ball or anything that resembled one, even bottle caps.
At the age of four he joined Grandoli, a local club that was coached by his father. He would later join another club called Newell's Old Boys. This is where he popped off, scoring five or seven goals a game and even getting the attention of former Barcelona coach Carles Rexach. Everything was going his way, until he was diagnosed with growth hormone deficiency (GHD) which stunted his growth. This didn't change Barcelona's mind. They still gave him a spot on the youth team and even offered to pay for his medications.
Playing for Barcelona was his dream and now nothing was going to stop him, not even his growth disorder. He won almost every game and did not disappoint. Finally, at the age of 17, he made it playing professionally in Spain's most popular league, La Liga. He was with top of the line players Andrés Iniesta, Xavi, Ronaldinho, and Carles Puyol. He quickly became well known as one of the starting 11 players.
After a couple of seasons and a few fellow player's retirements, he soon became Barcelona's number 1. Winning ten La Liga titles, two Golden Boots, four Champions leagues, and seven Ballon D'ors, he had won most big tournament trophies except for one: The World Cup.
The World Cup, the world's biggest sports tournament, was every futbòl player's dream to win. Winning the trophy comes with fame, money, and glory, but most importantly, it proves to the world that you are the best of the best. He desperately wanted this trophy. In Brazil's 2014 World Cup, he made it to the final against Germany, but lost 1-0. This only brought him more motivation to persevere, so he had another go in the 2018 Russia World Cup, but got knocked out in the Round of 16. Qatar's 2022 World Cup would probably be his last, so the stakes were high. Argentina lost to Soudi Arabia 2-1 in their first game. Most lost hope, but he didn't. He made it out of the group stage and beat Australia in the Round of 16, then Netherlands and Croatia.
Finally, he made it to the finals against France who were the previous World Cup winners. Argentina fought hard, he fought hard, and they came out on top. Argentina won the World Cup and now everyone will remember his name…
Lionel Messi:
The world's greatest futbòl player of all time.
Leave a Comment
Donate to The Charger Account
Your donation will support the student journalists of Dos Pueblos High School. Your contribution will allow us to purchase equipment and cover our annual website hosting costs.
About the Writer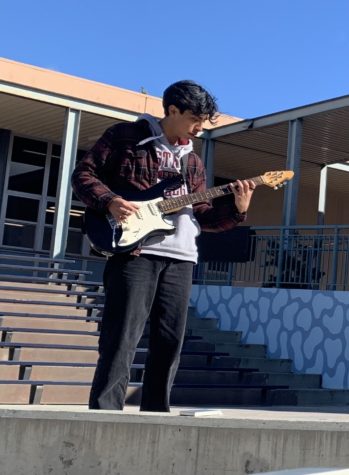 Kaiser Orduna, Sports Section Editor
Being not only an aspiring actor, but also a skillful musician, sophomore Kaiser Orduna has a hand on many things relating to the arts. "Growing up,...