An interview with Speed Bump, a student lead band at DP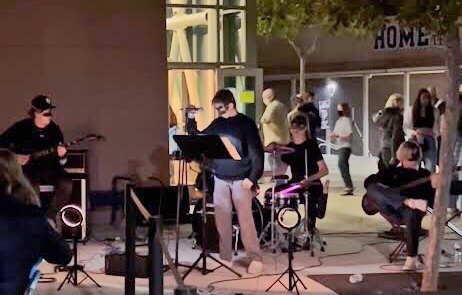 While Dos Pueblos has several in-school musical activities, such as jazz band or marching band, some students have had other ideas for how to get involved with music. Speed Bump is a student-run band, consisting of Carter Low, Asher Durtschi, Aydin Bulton, and Michael Durtschi, four sophomores at DP. They have been friends for a while, but only started the band about a year ago.
"During the summer before freshman year we went to a camp together," Aydin, the drummer in Speed Bump, said. "We were the best at the camp…so we played together a lot…We loved it, and after that, we wanted to keep playing together." After forming the band, the members of Speed Bump began practicing together. Eventually, they wanted to play not only for themselves but for others.
"I love playing in front of people," Aydin said. "It's fulfilling." Aydin and the other Speed Bump members have played publicly several times now, and are planning to play at a local elementary school. With their growing publicity, the group has found a system for making decisions, so that everyone is heard.
"We go around, and [we say] 'I want to play this song'…'I don't want to play that,'" Aydin said. After showing options, the team votes on which songs they want to play. The majority wins, however, everyone gets to make suggestions. This system has shown patterns in what type of songs most of them enjoy playing, but also their evolution.
"When we were first playing, we were doing a lot of pop songs, and some rock songs," Aydin said. "But now we're getting more into … indy jazz type stuff." So far, Speed Bump has only done covers, but each cover has a twist.
"We don't exactly copy [the songs we play]," Aydin said. "We do our own style of that song." In addition to their current song covers, they also have plans for future songs. "We've created a couple of melodies and riffs…So it's possible that in the near future, we might have a couple of originals," Aydin added.
In addition to the possibility of original songs in the future, the band also wants to bring in a new member. However, as a friend-group-based band, this can be complicated. "We're solid on the instruments…[but] for singing we don't have a really good singer," Aydin said. "It's tough…bringing some random person in. But maybe in the future, we also want to find a singer we can bring in."
Speed Bump hasn't recorded any of their music yet, so going to one of their events is currently the only way to hear them. They recently played at Roosevelt Elementary School on October 28th. They will also likely be playing locally in the future.
Leave a Comment
Donate to The Charger Account
Your donation will support the student journalists of Dos Pueblos High School. Your contribution will allow us to purchase equipment and cover our annual website hosting costs.
About the Writer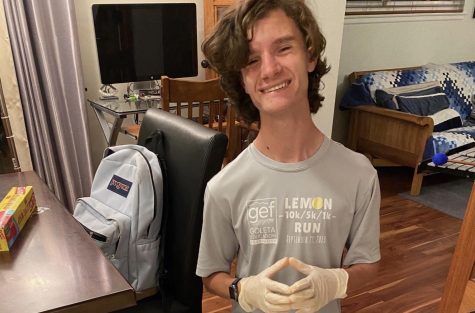 Nate VanDeVeire, Reporter
Nate VanDeVeire (10) has a massive interest in immunology formed by his approximately 10 allergies and is determined to become a physicist. Nate's constantly...