Senior signing day!
On November 8th, nine Dos Pueblos student-athletes officially committed to multiple different colleges across the nation. That Tuesday morning, these high school athletes took their careers to an entirely new level and took a step through one of the many gateways of life.
The signing day was scheduled for November 9th, but the administration changed its date, moving the signing to the 8th instead.
"We were told on Monday that they were changing [the signing day] to Tuesday. At first, I was a little scared because I didn't know if my family could make it … but my family was able to be there," said Maddie Nees (12), an Embry-Riddle Aeronautical University Lacrosse commit. "I feel like a lot of my work goes unnoticed, but you just have to keep on the grind and know what you're doing is right."
Since the athletes weren't allowed to sign the official document until 7 a.m the next day, they signed a mock-up.
"Dan Feldhaus introduced us, talked about where we are going, then we all signed our national letters of intent," said Avery Ball (12), a Messiah University Lacrosse commit.
Two swimmers, University of Chicago commit Cooper Costello (12) and Wagner College commit Nikko Carrillo (12), spoke about the relationship created in their sport.
"I overcome any challenges through my friends and especially the inspiration from Cooper. I swim with him a lot and he's the reason why I keep swimming today," said Nikko.
"He and I have a special relationship in swimming because we are so equal in skill," Cooper said. "We motivate each other to do better because we're always in such close competition."
Pomona College Water Polo commit, Ava Bennett (12), emphasized her love for the game.
"I fell in love with the sport, mainly because of the people. It's just such a great environment being around such amazing people," said Ava.
To Stanford Baseball commit, Ryan Speshyok (12), baseball was more than a game.
"This is my life, this is what I do," Ryan said. "From a young age, I had a baseball in my hand pretty much all the time. I just enjoy the feeling of putting in time and work, then seeing improvement."
Stanford Beach Volleyball commit Chloe Hoffman (12) explains the balance between being a student-athlete, along with the recruitment process.
"I played in a lot of tournaments my sophomore year to get the coaches to notice me and sent a ton of emails," Chloe said. "For me not being busy is worse than being busy, but if I have an hour between practice and lifts, then I actually get my work done."
Speaking on the behalf of all the other athletes at the event, Ryan portrayed the emotions going through his head.
"A bunch of my teammates were there, along with my family. It's cool to have people at the signing day supporting me and see all the people that have helped me get to where I am," Ryan said. "Alongside all the other athletes, It's a really special feeling."
Leave a Comment
Donate to The Charger Account
Your donation will support the student journalists of Dos Pueblos High School. Your contribution will allow us to purchase equipment and cover our annual website hosting costs.
About the Writer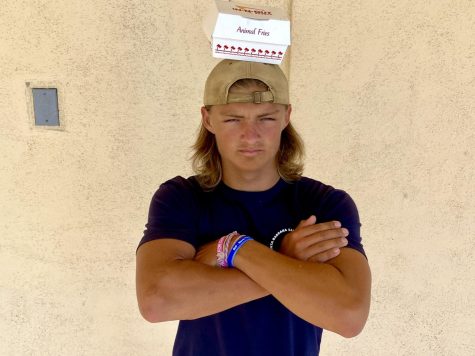 Lukas Ginder, Features Section Editor
Average Goleta local Lukas Ginder (24') encapsulates what it means to be from SoCal with a need to be at the beach, the love of having a good vibe, and...