Reflections competition opens up to artists this year
The Reflections art competition is now accepting artist submissions. This national competition allows students K-12 to submit their original artwork in various categories. The categories are dance choreography, film production, literature, music composition, photography, and visual arts. There is also a section for artists with disabilities.
Each year, a student proposed theme is selected, which all artwork should relate to.
"This year, the theme is show your voice," said Mr. Gleason, an art teacher here at Dos Pueblos, on the subject. "I find sometimes my students get caught up worrying about the theme too much. While you do want to do something that goes along with the theme, the themes are intended to be very open ended."
The competition, which has been running for over fifty years, rewards the winning artists with up to $800, a certificate of excellence, and to have their artwork placed in a Reflections art exhibition.
"Many kids when they enter these things win money, and they can use it to support their art habit," Mr. Gleason said.
To win, students' artwork will be evaluated by how original the piece is, the skill and technical difficulty of the piece, and how closely related to the theme the piece is.
"It's self affirming to enter your work in a contest," Mr. Gleason said. "You're not always going to win everything you enter but when you do start getting recognition for pieces, it really helps your confidence."
In addition to the piece of artwork, artists must also submit an artist's statement. This written statement is about what the meaning of the piece is, what it is inspired by, if applicable, and how it relates to this year's theme. The written statement should be of short-medium length, about 10-100 words.
For judging and awarding winners, the submissions will be divided into several groups. There is the Pre-Kindergarten to second grade section, the third to fifth grade section, the sixth to eighth grade section, and the ninth to twelfth grade section. Additionally, the "Special Artists" section will accept all grades. However, this section is un-judged.
Mr. Gleason is willing to help anyone who wishes to send in a submission. He can be found in the A3 classroom during lunch.
"Submit your best work and take really good photos," he said. "People can come see me if they're photographing their art and I can help teach. That's a big key, you want your art to look good."
If DP students want to submit their artwork for the competition, they must do so before the deadline of Tuesday, November 15th. The artwork piece and artist statement can be submitted through a Google Form at: https://docs.google.com/forms/d/e/1FAIpQLSdnhDv6ttzwPGQLmw5Mc5QNRGKDZT7QT4mqxEVqIyz1Mo3gAg/viewform?usp=sf_link.
Updated: 4/18
Leave a Comment
Donate to The Charger Account
Your donation will support the student journalists of Dos Pueblos High School. Your contribution will allow us to purchase equipment and cover our annual website hosting costs.
About the Writer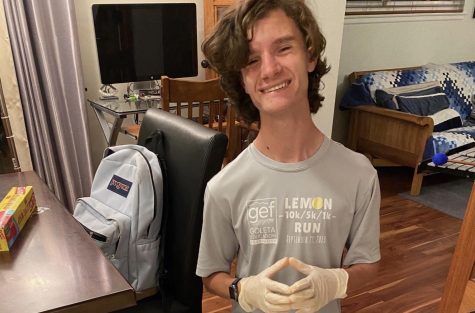 Nate VanDeVeire, Reporter
Nate VanDeVeire (10) has a massive interest in immunology formed by his approximately 10 allergies and is determined to become a physicist. Nate's constantly...