How to start getting into alternative music: a guide
Have you ever wanted to spice up your taste in music? Impress someone with your unique playlist, yet find yourself stuck listening to the Billboard Hot 100? If so, this is the guide for you. This guide will connect big artists to alternative artists with similar styles to ease your way into lesser known music.
If you are a fan of Tyler, The Creator you are probably aware of the music group and record label Odd Future, consisting of artists such as Frank Ocean, Jasper Dolphin, and of course Tyler himself— but did you know that Odd Future signed a hardcore band? While this band is not the main focus of this section, older fans of Tyler would not be surprised. It's apparent that he took inspiration from metal and punk, and it shows in his lyrical content, sound, and overall attitude. Turnstile is a band that has a perfect blend of aggression that you would hear on Wolf, Cherry Bomb, and Goblin; and with a more mellow, R&B, and funk sound you would hear off albums like Igor and Flower Boy. Turnstile has their roots in the hardcore scene, and has evolved their sound into a blend of hardcore punk with R&B, indie and rap, which can be found in their newest album GLOW ON released in 2021. They have been growing rapidly, participating on tours with artists such as Blink-182 and My Chemical Romance, while also playing festivals like Knotfest, Lollapalooza, and Coachella. Turnstile has many great songs such as "Generator", "BLACKOUT," and "Keep It Moving," but the song that I feel represents them the most is "MYSTERY," one of the most popular songs off their new album GLOW ON.
Using Tyler, The Creator to get into a hardcore band is strange, but not super random; but what if I could tell you that you could use Harry Styles to get into an emo post-hardcore band? Well, it's possible. Harry Styles is known for his upbeat indie-inspired sound. You may be wondering, "Upbeat? Emo? How do those work together?" It just so happened that the critically acclaimed band Movements has been experimenting with their sound and the product is the song "Cherry Thrill." Fans of Movements on TikTok dubbed it "Emo 'Watermelon Sugar'". This song is a good introduction to Movements and their music because it's not as traditional as one of their more popular songs such as "Daylily," which has a more post-hardcore sound; but listening to "Cherry Thrill" still makes listening to songs on their first album Feel Something more accessible and familiar.
Playboi Carti is an experimental trap artist whose whole style/sound is derived from metal and hardcore— especially on his Whole Lotta Red album, combining aspects of metal, high-pitched vocals, and 70's punk. The band that I feel captures Playboi Carti's rebelliousness, experimental, and aggressive style is the metal band Code Orange. They take influence from the 90's nu metal and industrial metal, while also combining it with hardcore. Code Orange vocalist Jami Morgan even stated Playboi Carti as a major influence on his style. The song that best represents Code Orange as a whole is the 2020 release "In Fear." It is an extreme track with wild electronics and a heavy foundation crushing with each guitar note. Other tracks to give a listen to are "Swallowing The Rabbit Hole" and "Out For Blood." They perfectly capture the wild blend of sounds Playboi Carti fans are familiar with.
Leave a Comment
Donate to The Charger Account
Your donation will support the student journalists of Dos Pueblos High School. Your contribution will allow us to purchase equipment and cover our annual website hosting costs.
About the Writer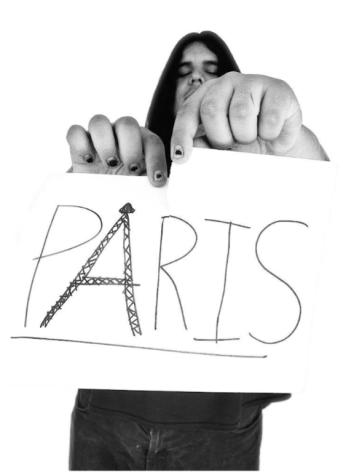 Joaquin Santamaria, Reporter
Joaquin Santamaria (11) aggressively tears a paper that says Paris, showing his hatred towards the "City of Love." He said he doesn't want to visit...