Cartas De Lotería
Across
3. Sirve para no mojarse cuando llueve.
6. Sirve para llegar a partes altas.
10. Una criatura viscosa que croa y salta.
11. Un hombre que se viste bien donde quiera que vaya.
12. Una persona que sirve en el ejército.
13. Un pequeño animal marino con patas diminutas.
14. Se utiliza para contener grandes cantidades de líquidos.
15. Sirve para ​​cocinar en la estufa.
16. Se puede romper y se puede curar.
18. Se utiliza para anunciar o llamar la atención.
20. Un instrumento musical que se usa para tocar con un arco.
21. Un sombrero hecho de tela suave.
24. Un instrumento musical de México.
25. Se usa para representar una nación.
27. Una flor conectada con el romance y el amor.
31. Trae calor y luz.
33. Nos da cocos.
34. Una fruta con rayas verdes en su exterior.
36. Punto de luz que brilla en la noche.
38. Un hombre rojo con cola sosteniendo un tenedor.
39. Comúnmente simbolizado en el Día de los Muertos.
40. El que con su instrumento alimenta el alma.
42. Algo en donde bebes.
43. Un instrumento musical que golpeas con un palo.
45. Colocado en las cabezas de la realeza.
46. Una criatura que atrapa su comida con una red.
48. Criatura con aletas y escamas.
Down
1. Pensado de ser hecho de queso.
2. Una fruta con su interior de color naranja.
4. Un pájaro que habla.
5. Un pájaro con un largo pico y cuello.
7. Sirve para sostener flores.
8. Una mujer bien educada que es de clase alta.
9. Una criatura con cuernos.
13. Una criatura cubierta de plumas.
17. Un instrumento musical con cuerdas de muchos tamaños diferentes.
19. Da sombra.
22. Mitad pez, mitad humano.
23. Otra palabra para canoa.
25. Un destino inevitable.
26. Recipiente donde se pone agua.
28. Una parte de tu cuerpo con 5 dedos.
29. Un hombre que no le tiene miedo a nadie, menos a la chancla.
30. La tierra, nuestro planeta.
32. Una fruta jugosa con piel verde.
35. Una planta cubierta de espinas.
37. Un animal que despierta a la gente por las mañanas.
39. Un arma usado para larga distancia hecho de madera.
41. Un tipo de zapato que te sube hasta el tobillo.
44. Un árbol con un olor refrescante.
47. Una criatura del desierto con un aguijón peligroso.
Leave a Comment
Donate to The Charger Account
Your donation will support the student journalists of Dos Pueblos High School. Your contribution will allow us to purchase equipment and cover our annual website hosting costs.
About the Writer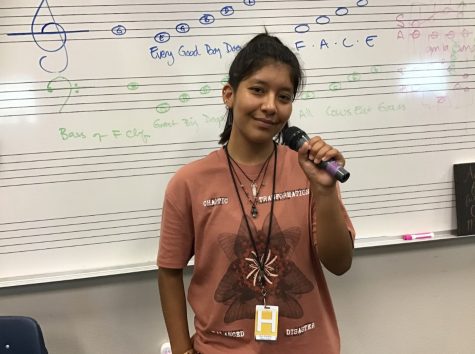 Yoselin Neri, Reporter
Yoselin Neri (11) shows her love for jazz choir. Yoselin has had a love for singing ever since she was little; this passion led her to where she is today....