DP mock trial team dominates at world championship
The Dos Pueblos Varsity Mock Trial team took its talents to this year's Empire Mock Trial World Championship competition in Baltimore, Maryland from September 24th-26th. The team finished in third place, just barely missing the championship round. It was the first time they had been to the competition since 2015, when they won the championship in New York.
"It's the big one of national invitationals, teams come from all over the country, they're usually very qualified. We've gone a couple of times, this is gonna be the first time in a lot of years that we're going back in person," said Maxfield Steele, a senior on the varsity team.
The DP team took third place in the 2020 virtual Empire competition and competed in the county and state championships this spring, placing sixth in state. All of this year's Empire team were also part of the county championship team. The team included Edo Barel, Charlotte Choi, Anastasia Li, Amelia Mendro, Jacob Molina, Maxfield Steele, Sienna Valentine, Liam Avolio, and Io Zhu.
The Empire competition is internationally recognized, and 28 teams from all over the world competed. Each program features four mock trials, during which students present arguments and evidence from a case that is legally complex and socially relevant. This year's case was United States vs. Tiernee, where an individual named Jo Tiernee was accused of sending out a false missile alert to an entire state.
"So the other defense is trying to prove that it could have really been anybody and the prosecution is saying that it just could have been the defendant," explained Sienna Valentine, a sophomore on the Empire team.
Sienna played an expert witness for both the prosecution side and the defense side, she was also one of the few out of over a hundred witnesses to win an Outstanding Witness award. "I think finding out that I won an award was probably my favorite moment. It meant a lot to me because I spent so much time practicing and getting ready that I was happy to see all my efforts pay off."
Sienna was one of the two Sophomores that went to the competition. "This will be my first competition traveling," said Sienna before the trip. "I've mainly done mock trial on Zoom before, so I'm super excited to get to travel with the team and be able to compete against teams I probably wouldn't have been able to without this competition."
Two other members on the team, seniors Maxfield Steele and Jacob Molina both won Outstanding Attorney awards. They have both been pretrial attorneys since their freshman year. "I thought it was entirely not going to happen…because the role that I do is, I consider, one slightly less award prone out of the attorneys …no one's giving out accolades on a regular basis," Max said on how it felt to be given the award. "I think that my team quickly faded in their reaction given that the person next to me in my row, who was also on my team, got the next award after and I think the comedic value of that overwhelmed."
The team spent the last month preparing for the competition, with some members taking on multiple roles. "I think there is no small role in mock trial," said Max. "I've yet to encounter any time where there's a trial I've done, where there was one role that just didn't matter. I don't think that my role matters anymore, or any less. It's just different."
Leave a Comment
Donate to The Charger Account
Your donation will support the student journalists of Dos Pueblos High School. Your contribution will allow us to purchase equipment and cover our annual website hosting costs.
About the Writer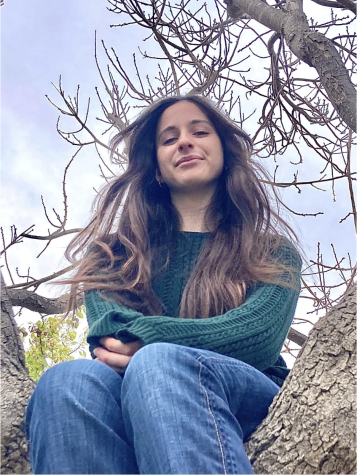 Ava Canfield, News Section Editor
In an alternate universe, sophomore Ava Canfield would be a hot pink or electric blue poison dart frog living by a creek in the rainforest, spending her...