Grandparent Portrait Show winner, Aya Al Sabeh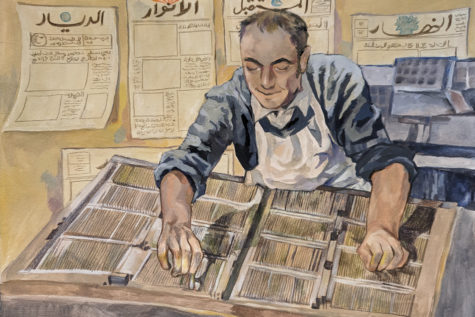 Aya's family has greatly contributed to her love of art. She used to play video games with her 13-year-old brother and was intrigued by the animations in the games. As a little girl, she visited her home country, Lebanon, and her family asked her to draw quick sketches of them.
Aya has taken four years of AP Art and completed two portfolios. Her art is inspired by her favorite artist, Gustav Klimt, who uses geometric shapes and abstract bodies to create realistic art.
"A lot of the work in my portfolio is based on his work," Aya said.
She values art because she can highlight her values and concerns through it.
"Painting and creating play a really important part in self-expression," she said.
Aya emphasizes her Islamic culture and religion through a lot of her artwork.
For instance, in her piece for the Grandparent Portrait Show, she drew her grandpa working hard in his shop.
"A lot of the other competitors painted portraits, but I really wanted to show that my grandpa worked really hard and raised 11 children," she said.
Aya remembers her grandfather as someone who was kind and generous throughout his life. When she was young, her grandfather was diagnosed with Alzheimer's. She was able to visit her grandpa in Lebanon, although most of what she knows about him comes from the stories her family tells her. One of her favorite memories she's heard about him is her grandpa picking figs off a tree with her brother and then sharing them with his apartment complex neighbors.
When Aya showed her family in Lebanon the painting of her grandfather, they were very happy and proud of what she did with her talent.
"My grandma loved the painting, maybe I'll ship it out to her someday," she said.
Many of her friends are artists themselves, and being surrounded by people with a similar interest has deepened her enjoyment of art. This has encouraged her to share her art publicly to gain feedback and become a more knowledgeable artist.
"Through the show I got the opportunity to talk to some great art critics," she said.
Her senior year has pushed her to participate in several art contests, including the Santa Barbara Scholarship Foundation Art Scholarship. While she has faced hardships, she has found pride throughout her student art career and feels that through college and new contests she can improve and grow as an artist.
"It feels amazing [to be recognized], I try my best, I draw everyday, and I paint as often as I can even though you get burnt out," she said.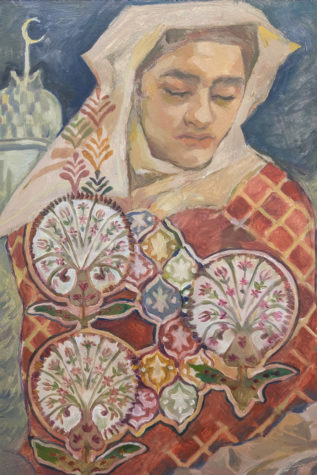 She highlighted the hardest parts of art and said the slightest mistake can make an artist dislike their art. But once she successfully completes an art piece, all of the hard work and time is worth it.
Aya is dedicated to pursuing her passion and wants to attend Otis College of Art and Design in Los Angeles. She's excited to meet people with the same passions as her and build new connections to learn and grow as an artist. Afterwards, she hopes to make art her job.
"I plan on pursuing a career geared towards western animation with an emphasis in video games," she said.
For more art, visit Aya's social media platforms @anime_artsie.
Leave a Comment
Donate to The Charger Account
Your donation will support the student journalists of Dos Pueblos High School. Your contribution will allow us to purchase equipment and cover our annual website hosting costs.