Behind the Scenes of Film Club
Lights, camera, action.
Though the Film Club has had challenges keeping the club in action, the group has prevailed. While the Film Club was active prior to the pandemic, club participation decreased while students transitioned to Zoom calls instead of physical meetings. The club's president Isabelle 'Isa' Kim-Sherman (12) ensured that it came out on the other side when students returned to campus. "I… took it on a little bit over the pandemic and tried to run it online my sophomore year, but then I kind of joined fully and started it up again as a junior," Isa said.
Isa started attending the club as a freshman, drawn by a good friend who was a member and who was partially responsible for initiating Isa's passion for film. "We always liked making little movies together, all through elementary school. And then when I came, I knew that she was part of the Film Club, so I went to hang out with her and potentially do more film projects," she said. When an opportunity to lead the club arose, Isa stepped into the job.
Currently, the club has about six consistent members, most of whom are seniors. Everyone in the club is also taking the IB Film Studies course. "So we kind of have that experience of both studying and making films," Isa said. The club members are presently watching a three-part series on Netflix called The House. "We're going to talk about it and see what we like about it and try to approach it from a film studies aspect," she said.
Isa's favorite aspect of film is screenwriting, and she is considering pursuing it after graduation. "I think that potentially might be what I want to study in college. So I've written stuff on my own, and then I've read other people's stuff and edited it," she said. "When you're doing screenwriting, you have to express [thoughts and feelings] through physical things that someone could act out. So that's kind of a really interesting challenge," Isa said. "I think that it's made all of my writing better."
Isa is confident that the club will continue after she graduates. "I think that people will want to pick it up," she said. "When you're working on a film with people it's a really involved process. You have to work really closely with people. And if one person drops the ball, it can potentially ruin a project. So working with my friends, working with people I can trust, definitely strengthens the trust that we already have."
The club hoped to gain some members after the school's club fair. "We're gonna get some people who aren't seniors, so that maybe they can take it over," Isa said. Film Club meets in Mr. Shive's classroom (H-16) on Wednesdays at lunch.
Leave a Comment
Donate to The Charger Account
Your donation will support the student journalists of Dos Pueblos High School. Your contribution will allow us to purchase equipment and cover our annual website hosting costs.
About the Writer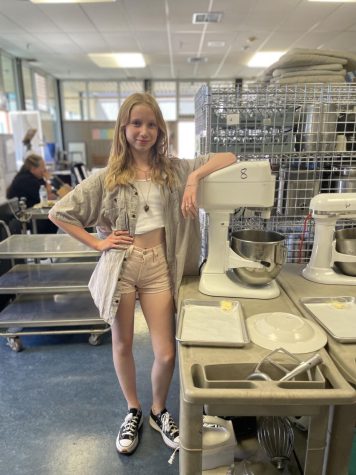 Evelyn Mills, Copy Editor
Evelyn Mills (10) really loves to cook and bake, often experimenting with the recipes to try and create something new. "You have to try new things, and...